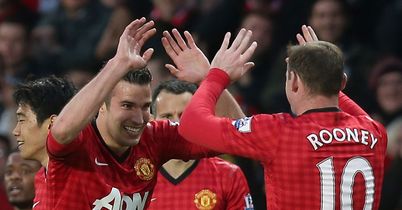 Manchester United's 20th league title, van Persie's hat-trick, Suarez's bite and ban and the relegation fight are discussed on the new Podcast.
Sky Sports News Radio's Mikey Burrows is in the chair this week and is joined by TEAMtalk.com Editor Simon Wilkes and Manchester United fan Tom McDermott, with Aston Villa supporter Dave Reed also making a guest appearance.
The trio start proceedings with United's 3-0 win over Aston Villa at Old Trafford, where Robin van Persie scored a stunning hat-trick and a goal of the season contender to singledhandedly sink Paul Lambert's strugglers.
Where this current United team stands in the pantheon of Sir Alex Ferguson line-ups is debated, then Reed gives his views on Villa's fight for top-flight survival, admitting they need to get points on the board as soon as possible.
Wilkes feels Villa's away form may be the key to them staying up, then the trio turn their attention to the battle for Champions League football, with Chelsea widely tipped to be the team that misses out on the top four.
Luis Suarez's bite then comes on to the agenda, with Liverpool receiving praise for the way they handled the fall-out of the controversial incident.
McDermott feels the Uruguayan could be on his way out of Anfield this summer, while Wilkes and Burrows go toe to toe on the seriousness of Suarez's bite on Branislav Ivanovic's arm.
The promoted teams from the Football League get a pat on the back and there is plenty more debated on a packed podcast, with someone getting a mention for tweeting #ilovethepodcast to @TEAMtalk.
Click here to download the Podcast as an MP3 file, or you can listen via the Mixcloud player below.
You can also access the Podcast on iTunes.
If you want to get a mention on the next Football Podcast, send a tweet to @TEAMtalk with the hashtag #ilovethepodcast - and we'll give your Twitter page a plug.
Rocking Robin, biting talk, 23 April 2013 by The Football Podcast on Mixcloud