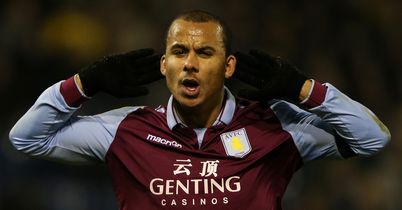 Aston Villa FanZoner Tom Davis heaps praise on Villa stalwart Gabriel Agbonlahor after the striker netted a landmark goal against Sunderland.
In scoring his seventh league goal of the season on Monday night in the 6-1 demolition of Sunderland, Gabriel Agbonlahor eclipsed Dwight Yorke's record of 60 goals to become the club's leading Premier League goal-scorer. Now, as one of the elder statesmen at the club, it is perhaps time to offer the local-lad some well-deserved credit for maturing into a new role over the past season.
As any forward player, Agbonlahor has been judged on his goals return. He previously revelled in a front two pairing under Martin O'Neill, yet the resignation of the Northern Irishman and a change in role under Gerard Houllier proved to be difficult times for a player who was once touted as a permanent fixture in the international setup. Houllier's arrival saw him languish in a nine month goal-scoring drought and subsequent questions on his future were raised by fans in the terraces.
But there is a direct correlation in the above in that Agbonlahor lost his form and goals as a result of losing a role that always seemed so natural for him. His pace is blistering and his work-rate has always been second to none, so a leading role up-front was perfect, wasn't it? After all, this was the same player who broke Darius Vassell's youth team record by netting 40 times in the 2003/04 season.
But despite his history - and indeed the new Premier League record that now dons his shoulders - Agbonlahor is not the greatest finisher the club has had on their books. He was always going to have to adapt his game at some stage or another. I am a firm believer that a player makes their own luck so it might be cruel to label him as 'lucky' in front of goal. However, he can seem to blunder his way through defences at times, which, in a strange sort of way, works to his advantage as neither he nor the opposing defenders can predict his movements. He is not the most graceful of players and that as a result means he can squander an awful lot of chances, but whilst not being the greatest finisher we've produced, he is certainly up there as one of the greatest forwards.
His form under O'Neill was vital to the team but there was always a feeling that he had hit his peak in terms of his goals return. So the arrival of big-money transfers Darren Bent and Christian Benteke over the past few seasons was a cause for concern for the Holte-End hero, wasn't it? He had hit a rut, wasn't scoring, and was pushed out wide with a return to the middle looking less and less likely. Like his predecessors before him, Paul Lambert utilized Agbonlahor on the wings, yet his role this season has possibly been the most influential on his career. It has revitalized him.
Benteke's arrival as the all-action goal-getting striker we've so desperately craved at the club may have cemented Agbonlahor's role out wide, but he hasn't struggled as a result. In fact, he has thrived from it. The Belgian offers assurances forwards can only dream of. If he's not flicking a header into your path then he's using his strength to bring you into the game. Fail that, the reputation gained this season is enough to create space in other areas out wide for the likes of Andreas Weimann and Agbonlahor - perfect for him to use his pace and work-rate to exploit the open space. It is safe to say he is enjoying playing with a big man again.
His part to play under Lambert as the elder statesmen has been a revelation as well. He has a role to play at the club again just as things were looking to slide away. His role off Benteke also offers the freedom his career so desperately craved and you have to applaud the way he has transformed himself. The eleven goals scored in all competitions this season has already equalled his record from the past two seasons combined, and, in a trio of attackers with a combined tally of 45 goals between them, it's feels good to say that we have our Gabby back - in perfect timing for this relegation battle too!
By Tom Davis, FanZone's Aston Villa blogger. Follow him on Twitter at @tomdav1991 - and don't forget to follow @FanZone too!