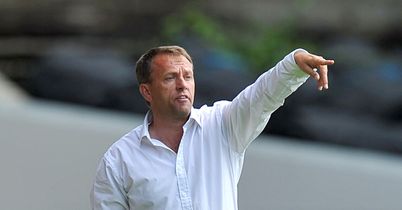 Barnet boss Mark Robson insists Edgar Davids' influence is already rubbing off on the squad following the draw with Wycombe.
While the former Dutch international struggled to impose himself on the game, his midfield partner Clovis Kamdjo impressed in a tight stalemate at Adams Park - and Robson believes it is Davids' effect in training which has inspired the rest of the Bees squad.
He said: "I think Clovis had a superb game alongside Davids there. I think Davids has brought the best out of Clovis, but Clovis has done well all season for us in midfield and he's getting better and long may that continue.
"Davids has been a massive difference - he's an enthusiastic guy out on the training pitch, possibly the most enthusiastic I've ever worked with and that rubs off on all the other guys.
"For the other guys to see that, it really encourages them, and out on the field he's a good leader. He was at the centre of a lot of what we were doing so it's about finding a winning formula.
"It's a work in progress but you can see we're getting there. If we keep playing like last Friday and grinding out draws like this then we won't be in the relegation zone for long. I think we have to look at it as a point gained rather than a point dropped."