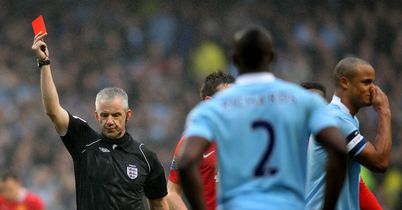 Mark Holmes defends Chris Foy's decision to send off Vincent Kompany and blasts those criticising Wayne Rooney in his latest Monday Moan blog.
Due to festivities getting in the way, this is my first Monday Moan of 2012 and the first for nearly a month. If you want to read some of 2011's offerings in which I slated the likes of Roy Keane, Sir Alex Ferguson, Steve Bruce, England, Sepp Blatter and many more, you can check them out here.
Judge the tackle, not the injury
The vast majority of people were outraged by the decision to send off Vincent Kompany in Sunday's Manchester derby, but not me.
Now before you jump down my throat, let me state that I am a staunch supporter of tough tackling and will defend any player that goes in hard, but fair. I hate the fact that tackling is being gradually outlawed and I genuinely do hate the fact that players are sent off for tackles like Kompany's.
However, I do understand why referees are forced to clamp down on those sort of tackles. Remember, the laws of the game are in place to protect players and, due to faster pitches, faster players and lighter boots, the chance of injury is far greater today than it was when players wore tougher boots on muddy, boggy pitches in the 70s.
Tackles that were harmless back then can now be extremely dangerous, and referees have an extremely difficult job to determine which ones are putting opponents at risk.
But, before anyone argues any of these things, the fact that Kompany got the ball is no defence, the fact that he did not catch Nani is no defence, the fact that it was early in the game is no defence, and the fact that the offence happened in the middle of the pitch and did not deny a goalscoring opportunity is no defence.
No, Chris Foy simply had to decide whether Kompany's tackle was 'careless', 'reckless' or made with 'excessive force'.
According to FIFA's laws of the game, only tackles made with excessive force are punishable with a red card. I don't know how referees are supposed to decide which category tackles fall into, but can anyone honestly say with confidence that Kompany would not have caused injury to Nani had the United winger not jumped out of the way? I certainly can't.
Unfortunately, some people will argue until they are blue in the face that Kompany should have escaped sanction because he took the ball and didn't cause an injury.
But the only reason Kompany got the ball so cleanly was because Nani jumped over the tackle to avoid a shin-full of Kompany's studs. Had Nani not spotted the danger and got out of the way, he could quite easily have ended up with a broken leg. Now if that doesn't class as 'excessive force', I don't know what does.
The simple facts are that Kompany stupidly made a dangerous tackle that there was no need to make. Foy correctly showed a straight red card because, as the laws state, he was 'in danger of injuring his opponent'.
I don't think Foy is one of the Premier League's better referees and there were a number of other big calls in Sunday's game he got wrong. However, I firmly believe he acted to the letter of the law in sending-off Kompany.
Criticise the law that outlaws tackles like Kompany's and criticise the fact that referees are not allowed to use their common sense, but don't criticise the man that simply did his job.
Yes, I defended Shawcross
I don't want to re-open this debate but know many readers will want to bring up the fact I defended Ryan Shawcross over the tackle that led to Aaron Ramsey breaking his leg. So in a bid to stop that from happening, I'd urge everybody not to bring up Shawcross unless you can honestly answer 'yes' to the following question:
Was Shawcross' tackle in which he went in with one foot, studs down, technically more dangerous than Kompany's in which he left the floor with both feet in a scissor action?
I don't believe anyone can honestly say that it was. If Ramsey and Nani were removed from the pictures and the Shawcross and Kompany tackles were shown in isolation, not one person in the world could argue the latter was less dangerous than the former.
For that reason, how can anyone argue Kompany should not have been sent off?
Give Rooney a break
Sir Alex Ferguson said after Sunday's game that Wayne Rooney is the new Paul Gascoigne for the media - everything he does, good or bad, will be scrutinised.
Maybe that's why Rooney came in for so much stick for his reaction to Kompany's tackle.
Players haranguing the referee is one of my pet hates but I can't honestly see what Rooney is supposed to have done that is so bad on this occasion.
Most of the top players are guilty of lecturing the referee and this was certainly not one of the worst incidents, nor do I believe it influenced Foy, who pulled his red card out extremely quickly.
As Ferguson said, maybe it's just too hard for some people not to make a story out of Rooney.
Fans follow success
While I'm in the habit of defending Manchester United and upsetting everyone else, is it just me that is extremely bored of fans criticising the club for having followers outside of Manchester?
I have to say Stoke's fans are some of the worst for this and I find it embarrassing. The only reason Manchester United (and Liverpool, Arsenal etc) have followers outside of their local area and overseas is because they have won titles.
If Stoke win a Premier League or European trophy, rest assured we too will pick up a lot of new fans from outside of North Staffordshire. And no doubt we will relish our new-found fame.
That's all the big clubs have done, but it doesn't mean they don't have long-time, loyal supporters like the rest of us. In fact United in particular always bring one of the best, most vocal, away contingents to the Britannia.
Believe it or not, not every Manchester United or Liverpool fan you meet is a glory hunter.
Jealousy is an awful thing.