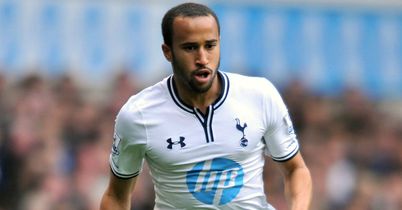 A potential banana skin for Manchester United and the impressive stats of Mark Noble and Andros Townsend feature in our weekend preview.
Noble deed
West Ham United may have failed to score in four of their last seven Premier League matches but it is not due to a lack of trying.
Keep an eye on Mark Noble against Manchester City on Saturday evening - the midfielder has created more goalscoring chances than any other in the Premier League so far this season.
Noble has created 17 chances for his team-mates and therefore poses a great threat to City. Ravel Morrison may be the man making all the headlines in the centre of West Ham's midfield but Noble is the one City should beware. Pete Fraser
All the right reasons
It seems a long time ago that Tottenham Hotspur were dependent on Gareth Bale. Winger Andros Townsend is now dominating news agendas due to his impressive performances for England, and the new Spurs star has also been on the back pages after Roy Hodgson's reported joke telling.
But it is best to concentrate on the on-field performances of Townsend and, for that reason, he will again be a key part of Spurs' plans at Aston Villa on Sunday afternoon.
Townsend has embarked on 50 dribbles in the Premier League this season, more than any other player, and has also attempted a league-high 26 shots without scoring.
Could he break that scoring duck against Villa, who have not kept a clean sheet at home in their last 14 Premier League games - starting with a 4-0 defeat by Spurs last December courtesy of a hat-trick by a certain winger named Bale? PF
Saints go marching on?
Adnan Januzaj may be the new golden boy at Old Trafford but his heroics at Sunderland cannot mask the fact that Manchester United are struggling to break teams down.
United have always placed an emphasis on crossing the ball but there are concerns that the team is showing signs of becoming a little predictable in their attacking play under David Moyes. When coupled with a series of defensive errors at the other end, there are questions to answer for the Premier League champions.
That being the case, Southampton must be a side to avoid right now - a team that United will always be expected to beat handsomely but also one in-form and with the tools to frustrate misfiring opponents.
The Saints have the best defensive record in the top flight, and Moyes' boys will need to show rather more than they did in their previous home fixture against West Brom if they are to avoid a repeat of that disappointing result. Adam Bate
Poyet needs points
"The Thursday and Friday before the Swansea game will be unbelievable for them," Gus Poyet warned his Sunderland players ahead of his first game in charge.
"The amount of information they are going to get is incredible. It will be a nightmare for the players coming back.
"They will all be together for the first time. I need them all in to convince them to be ready. It is going to be very demanding for them over those days. Mentally, not physically as much.
"We need them all to know what has been happening over the last eight days, we need them prepared for the Swansea game."
Poyet, who was appointed as Paolo Di Canio's replacement at the Stadium of Light last week, will be hoping that his players' nightmare doesn't extend to the game itself.
After all, Sunderland and their supporters need points not promises now. Stranded at the foot of the Premier League table with just one point from seven games, the Black Cats are already six points adrift of fellow relegation zone occupants Norwich.
A win and some confidence will be needed from the trip to the Liberty Stadium before their next fixture - a home game against arch-rivals Newcastle. AB
Goals galore
If ever a game promised goals, it is the meeting between Newcastle United and Liverpool on Saturday.
The statistics are staggering. There have been 122 goals in Premier League games between these two clubs, with only matches between Arsenal and Tottenham Hotspur producing more goals at 125.
In 38 Premier League meetings between Newcastle and Liverpool, there has never been a goalless draw, including the latter's 6-0 win at St James' Park last season.
Add to this the fact Liverpool captain Steven Gerrard is just one goal away from his 100th in the Premier League, with the England captain having already scored seven times against Newcastle in the top flight, and it could be another game to keep the scoreboard busy. PF
Bogey team for Baggies
Not everyone goes in for the bogey team theory. Players and managers change so surely it is irrelevant? But sometimes a statistic comes along that has to raise a chuckle.
Given that West Bromwich Albion have finished above Stoke City in seven of the last eight seasons in which they were in the same division, the head-to-head record between the teams must rank among one of the most extraordinary in English football. The Potters have won 16, drawn six and lost just two of their league meetings with the Baggies in the past quarter of a century.
Albion fans could be forgiven for thinking this is a great opportunity to make the short trip to the Britannia Stadium and take one small step towards addressing that record.
Steve Clarke's men were on a good run of form prior to the international break, having picked up four points from two games against Manchester United and Arsenal. In contrast, the early optimism of the Mark Hughes era at Stoke has taken a jolt following back-to-back defeats by Norwich and Fulham.
So the result is obvious, isn't it? Home win. AB
Hull's unsung heroes
Roberto Martinez has earned deserved praise for the ease with which he has sidled into the Everton hot seat and tweaked the tactics to develop an entertaining team that is getting results.
The Toffees were the last side to lose their unbeaten record in a spirited defeat at Manchester City last time out. A home fixture against Hull City represents an excellent opportunity to bounce back with three points and maintain this early season momentum.
But while Martinez may have enjoyed a good start, Tigers boss Steve Bruce is truly exceeding expectations at the KC Stadium.
Three wins and 11 points from Hull's first seven games represents a strong return - almost flawless when you consider that the only two defeats so far have come away to Chelsea and Manchester City.
With Bruce even having adapted his formation ahead of the Premier League campaign, it's been an unqualified success for the experienced manager. He's already the highest placed English coach in the league. A win at Everton and the Steve Bruce fan club may swell further. AB
Hull centre-back Curtis Davies features among our Unsung Heroes of the Premier League.