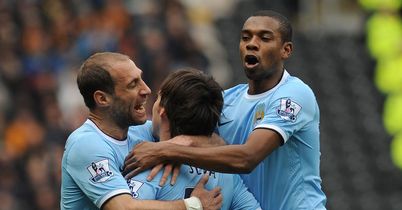 With Man City's hopes of title glory rekindled after beating Hull, Matt Stanger believes David Silva and Martin Demichelis deserve the praise.
As Lee Mason snatched the red card from his pocket it seemed that Manchester City's title hopes were slipping away. Vincent Kompany knew what it meant - 80 minutes with ten men only three days after an exhausting night in Barcelona. Normally the coolest head in the game, the captain took out his frustration with a karate kick on the wall of the Hull tunnel as he made his way back to the dressing room. Mason had failed to spot Nikica Jelavic's foul in the build-up to the incident, but it mattered little after the referee had made his decision.
Having Kompany dismissed was one problem for City; having Martin Demichelis remain on the pitch alongside Javi Garcia in a makeshift back-line was more reason to worry. This was the centre-back pairing that City fans hoped they would never have to see - the most conspicuous evidence yet of Manuel Pellegrini failing to adequately strengthen his defence either last summer or in January.
And yet City remained solid. It was a performance on which titles are won as Demichelis jabbed one in the eye of his critics and Garcia left the baby at home. On Saturday, City's heads were very much in the game; no hoodies, no complacency - it was an organised, professional display to claim only their fourth victory in nine matches and first on the road to reeling in Chelsea. This was a gutsy effort that reiterated Jose Mourinho's fear of a City revival.
One of the coolest heads in the game loses it at referee Lee Mason after being shown a straight red card
Of course, with David Silva on the pitch there was always the opportunity for a moment of magic to break from the rough-and-ready resolve that City were forced into demonstrating. The Spaniard's sublime strike looked as though it was hit in frustration at the injustice of Kompany's dismissal but, even when he's spurred by anger, Silva can't help but produce a thing of sheer beauty.
The goal galvanised City. Now they had something to hold on to. Now the point that Demichelis had set out to prove would count for three in the title race. Hull launched ball after ball into the box, but the defence's judgement was shrewd, stepping up as one to leave Jelavic off-side on four occasions. It was infuriating to Steve Bruce - to Demichelis it was perhaps further evidence that Kompany's failure to judge the line was the real reason for that costly mistake against Barcelona at the Etihad.
City still have problems, though, despite possessing a squad that seemed immune to injuries and poor form at the start of the campaign. That it took Edin Dzeko two clear chances to wrap up the victory - the second of which couldn't have been made any easier by Silva - points to Pellegrini's main area of concern. It was the striker's first goal in over ten hours and City's tenth in their last nine outings. With Sergio Aguero again missing because of a hamstring strain and Alvaro Negredo subdued following his shoulder injury, the previous attacking potency remains missing.
David Silva was at his imperious best at the KC Stadium in scoring City's first and assisting their second
It will need to return if City are to haul themselves level with Chelsea. The Premier League leaders have scored the fewest number of goals in the top three, but they have also conceded five fewer than City despite having played two games more. "One of the easiest things in football is to win 1-0," said Mourinho in December - but try telling that to Pellegrini ahead of away matches against Manchester United, Arsenal and Liverpool.
If City can continue to defend as they did on Saturday, they will stand a chance of sneaking results by the odd goal. But the truth is there are tougher tests than Hull on the horizon. At the KC Stadium, they showed plenty of the ingredients required for a title challenge, but Pellegrini will hope for good news on Aguero and Negredo in the ten days before the trip to Old Trafford.