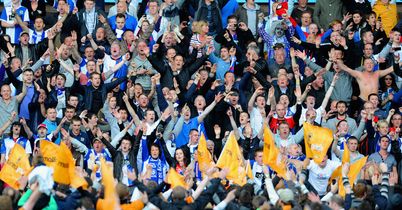 Mark Holmes blasts the ludicrous idea to scrap promotion to the Premier League in the first edition of a weekly moan about what's in the news.
I've gained myself a reputation as a bit of a loose cannon in my five years at TEAMtalk - when the rest of the team is agreed on something, they can usually rely on me to stagger into the office with a very strong, wildly different opinion.
For that reason, the powers that be have decided it's a good idea to let me put my moans down on paper each week. In this first edition, I give my thoughts on the idea to scrap promotion to the Premier League, Charlie Adam's dive, the Jack Rodwell tackle that I believe was a sending-off, the ridiculous suggestion that Wayne Rooney should not go to Euro 2012, and why Steve Bruce just annoys me.
The American Dream
A 1931 definition of the American dream (according to Wikipedia) states "life should be better and richer and fuller for everyone, with opportunity for each according to ability or achievement."
It would appear that dream is something of a nightmare for the five American owners of Premier League clubs (Manchester United, Liverpool, Arsenal, Aston Villa and Sunderland) as LMA chief executive Richard Bevan has hinted they are the men keen to 'bring about the avoidance of promotion and relegation in the Premier League'.
I understand that football clubs are businesses that want to capitalise on the Premier League brand, but when will these Johnny Foreigners realise that it is the competitive nature of the league that makes the brand so great?
Ian Ayre's suggestion that clubs should be able to sell their own overseas television rights was roundly criticised for that reason. While Liverpool do have significantly more fans abroad than the likes of Bolton and Wigan, one of the biggest selling points of the Premier League is that any team can beat any other. Taking money from the poor and giving it to the rich would soon stop that from happening and before long, the Premier League would lose the competitiveness that has made it the most exciting league in the world.
Don't bite the hand that feeds you was the loud and clear message sent to Ayre and it can be repeated in the wake of this latest ridiculous idea. There are 92 clubs in our league system and the day 72 are told their dreams and hopes are over is the day English football will die.
Stick to ruining your own sports Yankees, and leave ours alone.
Charlie Adam dive
Two things annoyed me about Charlie Adam's dive on Saturday.
The first was that any Manchester United fan had the cheek to get angry about someone taking a dive, and the second was that there were people claiming Adam was within his rights to go to ground.
Rio Ferdinand even admitted to making contact with Adam but nobody will ever convince me that he could not have stayed on his feet. Football is a contact sport and, for me, a free-kick should only be given if the contact made is enough to knock a player off balance or off his feet altogether.
The worrying thing is that referees actually encourage players to go to ground. So who can blame Adam for taking a tumble in the circumstances? And who can honestly say they've never seen a player in the team they support go down too easily? Get off your high horses people.
Jack Rodwell tackle
While we're on the subject of Liverpool, I have to confess I only saw the Jack Rodwell tackle for the first time on Friday. I'd obviously heard the mass outcry about Martin Atkinson's decision to send him off and was expecting a nothing tackle, but it was much, much worse than I'd anticipated.
He may have taken the ball long before Luis Suarez was anywhere near him, but he also caught the striker studs up in his shin with his follow through. This is a pathetic attitude to take, but I'm certain the reaction would have been far different had Ryan Shawcross made the tackle. I dare say the opinion would have been that Shawcross wasn't in control of both of his feet and that he had gone in with 'excess force'.
For the record I like Everton, like Rodwell and wouldn't have players seeing red for those sort of challenges if I was in charge of the referees, but I actually think Atkinson was right to send-off Rodwell by the letter of the law and am surprised the decision has been reversed.
Wayne Rooney rubbish
I'll keep this brief. Anyone who thinks it would be a good idea to not take our best player to the European Championships is an idiot. Would Portugal leave Cristiano Ronaldo at home? Would Argentina leave Lionel Messi at home for a World Cup? Of course they wouldn't.
Some have suggested Rooney needs to be taught a lesson, but the phrase cutting your nose off to spite your face springs to mind. If we're to stand any chance of winning Euro 2012, we need all our best players out in Poland and Ukraine, and Rooney is our best one by a country mile.
Having him rested in time for the quarter-finals is no bad thing either and I can't think of one good reason not to get him on the plane this summer.
Steve Bruce IS rubbish
I got quite angry talking about Bruce in this week's Podcast and there's a good reason for that - the man is a terrible manager with a massively overblown opinion of himself.
He buys a new team every summer, fails to address problem areas (he didn't buy a single left-sided player and needed until the 11th hour to land a proven striker, on loan), refuses to take the blame for anything that goes wrong, and persistently bangs on about last season's 10th-placed finish as though it was some sort of massive success for Sunderland.
I genuinely don't know how the Mackems put up with him. Every summer they hear pundits tipping them for great things after another Bruce signing spree and every season they see the team under-perform, in no small part due to the manager's tactical naivety.
Arsenal looked there for the taking after Sunderland's equaliser on Sunday and were fortunate to get to half-time at 1-1. A good manager would have sent his side out to finish the job; Bruce sent them out to defend what they had and, rather predictably, it ended badly.
Ellis Short needs to get rid - and quick.
Let me know your thoughts on all my points in the comments box below.