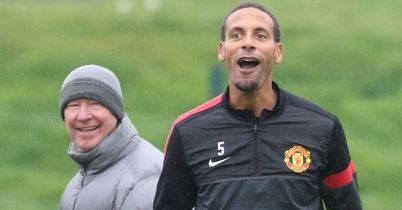 TEAMtalk columnist Danny Mills believes players who did not wear Kick It Out T-shirts should explain why they boycotted a "fantastic campaign".
Hi everyone, Danny here back with 'Mills & Boom'.
This week I've been on Sky Sports News Radio, discussing the fall out from a weekend when player protests and supporter behaviour once more came under the spotlight.
My old team-mate, Rio Ferdinand, was among a number of players who opted not to wear the T-shirts supporting Kick It Out's week of action, and while those players have legitimate concerns, perhaps they chose the wrong way of venting their frustration.
It would be helpful to hear the players involved explain their thinking as we are still not sure exactly why Kick It Out were targeted.
Having been on the end of some tasty chants myself, I don't think we should overreact to some of the distasteful songs we have heard from the terraces recently. Obviously, the individual who assaulted Chris Kirkland went way too far, but rarely should players take too personally what comes from the stands.
Click here to have a listen to what I've got to say on the weekend's big issues.
Danny says...
On the Kick It Out boycotts:
"I'd like to see Rio, Jason Roberts and Anton Ferdinand come out and say why they didn't wear the T-shirts. We are trying to read between the lines. What do they expect from the Kick It Out campaign?
"I believe they should have supported the campaign. Kick It Out is a charitable trust. They have no power; they are a lobbying committee and awareness campaign. That's all.
"These players didn't really have a grievance with Kick It Out. The Kick It Out campaign has been incredibly successful. It's been exceptional and has gone a long way to eradicating racism in football in this country.
"Those players had an issue with the FA, with UEFA, with FIFA and probably the PFA, so I can understand those frustrations and the need to vent those frustrations. I just feel they were slightly misguided and vented in the wrong direction.
"Kick It Out have done a fantastic job. David James wrote an article in which he said racism in football had been almost completely eradicated. You'll always get the odd individual who wants to cause a problem. But I don't think, in general, that racism is a big problem in football any more."
On the confusion between Ferdinand and Sir Alex Ferguson:
"I don't think Ferguson really has a problem with Ferdinand not wearing the Kick It Out T-shirt. I think the big issue with Ferguson is that he told Ferdinand to wear it, but he didn't. It could have been any cause. I think what Ferguson is really annoyed about is that Ferdinand went against him and made him look a little bit daft.
"Ferguson has dealt with much bigger issues and even bigger players. But he is one of the best man-managers we have ever seen. If Ferguson decides that you should do something, then that's what you do. I think Rio was a little bit naive not to go tell him manager, 'look I don't agree with this'. There should have been some dialogue."
On distasteful terrace chants:
"It's a very fine line between banter and taking it a stage too far. I don't believe any of those Sunderland fans really wanted Steven Taylor dead.
"You have to get it into context. Football chants are, at times, very, very funny but occasionally it oversteps the mark. At the moment, we don't know where the boundaries lie.
"When I played, I never took it personally. It's the way I played the game. I'd get booed from the start and I'd hear all sorts of things. A lot of them were quite funny!"