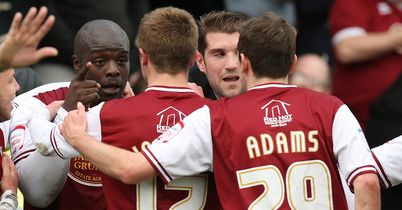 Matty Briggs had a winning Value Bet (2/1) and Banker (5/6) last weekend and the Numbers Game returns with an 11/5 shot in League Two.
Blackburn Rovers' (2/1) win at Wolves last weekend handed @MattPBriggs' Value Bet its third success in four weeks and the headline tips have now returned £7.56 from a £1 stake. Carlisle (5/6) also had TEAMtalk Towers jumping for joy as they defeated Bury to make sure The Banker was also a weekend winner. Sky Bet's Trading View was also spot on. The advice was to avoid both West Ham (4/11) and Stevenage (4/6) like the plague and both favourites failed to chalk up victories. Meanwhile, the Steamers had a mixed weekend as Brighton were backed and duly won but Liverpool, despite steady support, slipped up at Sunderland.
VALUE BET -
Northampton to beat Accrington Stanley at 11/5.

Stanley have somehow grabbed two draws from the jaws of defeat in their last two games away at Bradford and Southend, but they have still gone seven games without a win. The Lancashire side have being struggling under new boss Paul Cook and are still waiting for their first win under his tenure. Meanwhile, Northampton are starting to gather some momentum after three straight wins and are pulling clear of the drop zone and they look a value pick at the Crown Ground.

STEAMERS - The Cheltenham Festival has meant a slow start on the weekend's football. Sky Bet are expecting Doncaster (6/5) to go shorter though. "Derby (9/4) are always opposed in Asia on a matchday and Doncaster are showing some signs that they might be capable of pulling themselves out of trouble."

WHO'S HOT -
Man Utd (1/3) won last four Prem games and travel to Wolves (8/1).
Brighton (3/1) unbeaten in 12 Champ games and travel to Blackpool (10/11).
Hull (19/10) unbeaten in 10 Champ games and travel to C Palace (7/5).
Southampton (11/10) unbeaten in nine Champ games and travel to Millwall (12/5).
Reading (10/11) unbeaten in nine Champ games and travel to Barnsley (3/1).
C Palace (7/5) unbeaten in eight Champ games and host Hull (19/10).
West Ham (7/5) unbeaten in seven Champ games and travel to Leeds (15/8).
Northampton (11/5) won last three League Two games and travel to Accrington (5/4).

WHO'S NOT -
Tottenham (30/100) lost last three Prem games and host Bolton (9/1).
Bournemouth (6/5) lost last five league games and host Carlisle (11/5).
Oldham (12/5) lost last three League One games and travel to Rochdale (11/10).
Portsmouth (6/5) lost last three & gone eight league games without a win and host Bristol C (11/5).
Bury (6/5) gone 10 League One games without a win and host Wycombe (11/5).
Macclesfield (13/5) gone 13 league games without a win and travel to Dagenham (evens).
Burton (15/8) lost last five league games and host Torquay (6/4).
Dagenham (evens) lost last three League Two games and host Macclesfield (13/5).

TRADERS' VIEW -
Sky Bet like the look of Leeds at home to West Ham. "There's been a big improvement under Neil Warnock defensively and they created numerous chances in the last home game against Southampton. West Ham have been stuttering of late and will feel the pressure with the biggest crowd of the season expected at Elland Road."
However, they are not keen on Chelsea. "The Blues look very short at home to Leicester. They put a lot of effort in on Wednesday night and an anti-climax could well be on its way. The same can be considered when it comes to Manchester United away at Wolves. They spent Thursday night chasing shadows in Bilbao and we feel it is going to take a huge effort to come out all guns blazing against Wolves, regardless of the struggles in Wolverhampton."

BOGEY TEAMS -
Liverpool (2/5) gone 32 home games unbeaten v Stoke (15/2).
Everton (10/11) gone 11 games unbeaten at home to Sunderland (3/1).
Tottenham (30/100) won last five at home to Bolton (9/1).
Reading (10/11) won five of last seven at Barnsley (3/1).
Birmingham (10/11) won six of last eight at home v Middlesbrough (3/1).
Hull (19/10) gone eight without a win away at C Palace (7/5).
Leeds (15/8) won eight of last nine at home v West Ham (7/5).
Millwall (12/5) gone nine games without home win v Southampton (11/10).
Bury (6/5) won just one of last eight at home to Wycombe (11/5).
Charlton (13/10) only won once at Scunthorpe (2/1) in eight visits.
Hereford (23/10) lost last four at home to Southend (6/5).
Oxford (6/5) gone eight home games unbeaten v Rotherham (11/5).
Plymouth (13/5) lost just one of last 15 at home v Shrewsbury (evens).

BANKER -
Ipswich to beat Peterborough at 8/11.

Ipswich have won their last three home games and scored 11 goals and they look well equipped to see off Peterborough. The Posh had a big win at home against Blackpool last weekend, but they have only won three times away from home and their last success on the road was December.

TREATMENT ROOM -
Torquay to beat Burton at 6/4.

Burton midfielder Adam Bolder will miss out through suspension and centre-back Nathan Stanton is also likely to be absent against the Gulls. Captain John McGrath (foot) will probably remain sidelined for a fourth game.

Watford to beat Coventry at 10/11.

Gary McSheffrey (thigh), Cody McDonald (groin) and David Bell (groin) are all struggling to be fit for Coventry while Carl Baker (hamstring) is likely to miss the rest of the season.

FAMOUS LAST WORDS -
Colchester to beat Huddersfield at 9/5.

Speaking after the midweek 1-1 draw with Sheffield United, John Ward said: "It was a really strong team performance by us. Steven Gillespie finished well for his goal but it was a strong second-half performance from us which was necessary. I thought that we were a little bit anxious with the ball in the first half. We worked exceptionally hard and had good shape and attitude but we just needed to be a bit better with the football. I thought in the second half the goal helped us a bit and it restored a little bit of confidence. They went into slight disarray after we scored but we couldn't find a second one."

Cheltenham to beat Gillingham at 5/6.

After last weekend's 1-0 defeat at Swindon, Mark Yates said: "I was delighted with the performance. Swindon are a strong side but we have proved we are a match for anyone. On our day we are the best team in the league. Swindon have found a level of consistency and a winning mentality but we battered them in every department. They knew they were in a game from the first minute and on another day we would have had three points. If we produce 10 more performances like that we will go up."

You can follow Matty on Twitter at @mattpbriggs.