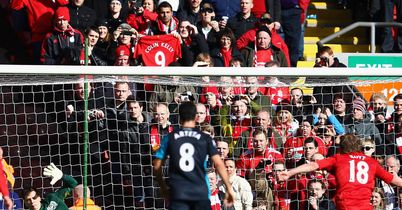 Wojciech Szczesny, Andre Villas-Boas, woeful Wigan and Steve Kean all feature in TEAMtalk's review of Saturday's Premier League games.
On evenings throughout the 2011/12 season, TEAMtalk's writers are presenting their Premier League Picks - the special moments, star performers, stunning matches or shocking incidents from the day's action which we expect to dominate the headlines.
We'll be watching all the action unfold on the live TV feeds which are piped into TEAMtalk Towers from grounds up and down the country.
Once you've read through our choices, let us know your opinions by adding a Comment below.
Szczesny's the (number) one and only
Robin van Persie will steal the headlines but you could argue that Wojciech Szczesny deserves just as much credit for his role in their 2-1 win at Anfield on Saturday lunchtime.
This time last year, Szczesny probably hit the lowest point of his fledgling career when his clanger gifted Obafemi Martins and Birmingham a shock Carling Cup final victory.
But fast forward a year and the Gunners No 1 has more than justified the faith Arsene Wenger's has placed in him. His display on Saturday was nothing short of exceptional as the Polish keeper made numerous fine saves to keep the Reds at bay in the first half.
His penalty save from Dirk Kuyt and follow-up to deny the Dutchman was Jim Montgomery-esque (YouTube it, kids!) and among the best bits of goalkeeping this season.
His efforts between the sticks laid the foundations for van Persie's heroics at the other end and how much might those three points at Anfield be worth to the Gunners at the end of the season.
James Marshment
Too much, too soon for AVB
The Chelsea axe is hovering ominously over Andre Villas-Boas' head following their 1-0 defeat to West Brom at The Hawthorns.
The result itself was not that much of a surprise given that Roy Hodgson's buoyant Baggies had won their previous two games 4-0 and 5-0 (against Sunderland and Wolves respectively).
But what was a surprise was Albion's dominance of possession considering they had previously lost 15 consecutive top-flight games against the Blues.
Villas-Boas was the man with a plan when he took the reins at Stamford Bridge last summer - but I think he has been too brutal, too soon with Chelsea's old guard, with his treatment of Frank Lampard pretty disgraceful.
Hindsight is a great thing and I think he should have kept the Old Guard heavily involved in his first full season, then edge them towards the exit door in this summer's transfer window.
Player power is clearly a problem at the Bridge, with a large number of the squad visibly not playing for Villas-Boas or buying into his 'project'.
So it will be interesting to see whether Roman Abramovich 'backs' or 'sacks' his young manager, as a failure to finish in the top four will be unacceptable.
Simon Wilkes
Whelan shaken by Martinez selection
What on earth was Roberto Martinez thinking when he picked his Wigan team to face Swansea in what was surely a must-win game for them?
I was staggered to see Victor Moses, Hugo Rodallega and Mohamed Diame restricted to bench roles against Martinez's former club - and although they came on eventually, it was too little, too late.
The lacklustre Latics are somehow only two points from safety, and memories of last season's Great Escape will keeping them going - but I can't see them repeating that feat, and Dave Whelan will no doubt tear a strip off his Spanish manager in Monday's meeting to discuss their dismal display.
I'm sorry but Wigan will not be missed by me if they drop down to the Championship, as they bring very little to the division in terms of entertainment and have a stadium with no atmosphere.
I can't believe they've not been cut adrift following their worst run of form since 1978 - but if they are to get out of trouble, they need their top men playing the full 90 minutes whether they're knackered or not.
SW
Rovers need to be proactive
I'd love to know what Steve Kean said to his Blackburn side before sending them out to take on Aston Villa at Ewood Park on Saturday because for the opening 45 minutes his men didn't look like they were interested in getting anything from the game.
Villa are on a downward spiral. They've lost their top striker and the fans want Alex McLeish out so why oh why would you not go for the jugular when you're at home and are in desperate need of the points?
In the end Rovers salvaged a draw thanks to David Dunn's equaliser, after Charles N'Zogbia had given Villa a deserved lead, but unless Kean urges his troops to start being proactive in games rather than reactive then relegation seems a certainty for me.
Villa, on the other hand, probably have enough of a cushion to avoid the drop. Although whether the fans allow McLeish to be the man to take them forward remains to be seen.
Rob McCarthy
Lights out, all out for Sparky
QPR dominated for long spells in Saturday's game against Everton and they could really rue their inability to provide the finishing touch to their dominance against the Toffees.
Mark Hughes has spent big since his arrival at Loftus Road in January but results have yet to catch fire and the R's find themselves getting squeezed deeper and deeper into a relegation scrap.
There's no doubt (on paper at least) that QPR have the quality to stay in the Premier League, but until he can find that winning formula it could be lights out, all out for Sparky's boys.
By the way, anyone wanting to make a case for miss of the season, look no further than Akos Buzsaky's first-half miss for Rangers. Ouch - even Ronnie Rosenthal would whince! JM
Hero Holt not international class
Everyone loves a rags to riches story in football because in this country it seems, we all love an underdog. And in Norwich favourite Grant Holt - a man who has played in and scored in all four divisions of English football - it is no different.
Just three short years ago, Holt was banging in the goals for League Two outfit Shrewsbury Town. Fast forward to 2012 and all of a sudden talk is mounting that Holt could earn a place in the England squad.
Don't get me wrong, Holt is a useful, sterdy, energetic frontman who has proven more than a match to plenty of Premier League defences this term. But international class he is not, and at 30 years of age, I just can't jump on board the 'Holt for England' bandwagon.
I know England are lacking in genuine strike options, but I'd rather see someone like Southampton's Rickie Lambert at Euro 2012 than Norwich hitman Holt. JM