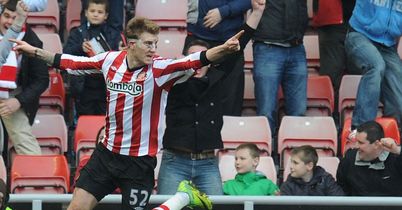 Liverpool's expensive strike force is questioned and Ricardo Fuller blasted in TEAMtalk's review of Saturday's Premier League action.
On evenings throughout the 2011/12 season, TEAMtalk's writers are presenting their Premier League Picks - the special moments, star performers, stunning matches or shocking incidents from the day's action which we expect to dominate the headlines.
We'll be watching all the action unfold on the live TV feeds which are piped into TEAMtalk Towers from grounds up and down the country.
Once you've read through our choices, let us know your opinions by adding a Comment below.
Lacklustre Luis and Carroll not on song
Sergio Aguero. David Villa. Edinson Cavani. Emile Heskey. For £68 million, Liverpool and Kenny Dalglish could have signed any of these players in January 2011 and surely reaped more than 22 goals in 89 games as the rewards? But with 15 goals in 62 accumulative appearances this season, Andy Carroll and Luis Suarez are hardly lighting up the Kop. But why?
After an insipid 1-0 loss to Sunderland at the Stadium of Light, Liverpool's expensive strike force are under immense pressure at Anfield. In the curious case of Andy Carroll, the problem seems simple: Dalglish isn't giving him enough playing time. As a confidence player, Carroll needs minutes under his belt and chances to shine, but a seeming reluctance from Dalglish to give him a consistent run of games is stunting his progress. Of course, the question mark still stands as to whether Dalglish actually wanted Carroll in the first place. Surely if you sign any player for £35 million, you build a team around them? It's the complete opposite with Liverpool, who play football so very differently to Carroll's ideal style. The only way Carroll himself can adjust however, is to be given ample time on the pitch. The question is, can Dalglish - or even will he - risk blooding Carroll properly with so much at stake this season? Personally speaking, I can't see it.
So we move on to the mesmerising South American. Luis Suarez undoubtedly has the talent to beat a man, but his greed, selfishness and petulance will continue to stunt his growth as a potential Anfield legend. While his propensity to hit the woodwork could point to some terrible run of bad luck, it's hard not to see it as bad finishing from the Uruguayan. Early calls from the Kop upon his arrival branded him as the Merseyside Messi, but in my opinion it's clear that Suarez is a great player and no more. The man is a striker after all, but his profligacy in front of goal and constant refusal to pass the ball is infuriating.
If PSG do indeed come calling in the summer, Liverpool could be best advised to cut their losses and sign a team player, as opposed to an individual with brief flashes of brilliance. As for Carroll, the talent is clear to see, but perhaps the gangly Geordie doesn't belong on Merseyside after all. With Liverpool languishing just 6 points above Swansea in 15th after 30 goals in 27 league games, it's clear for all to see that Suarez, Carroll and Dalglish himself should shoulder the majority of the blame. Matt Stead
No excuses for short-sighted official
If QPR go down by a point at the end of the season you could very well see a seething Mark Hughes hunt down the official who made an unforgiveable error in Saturday's game at Bolton.
Quite how the referee's assistant failed to spot that Clint Hill's header had gone a couple of yards over the line before Alex Bogdan clawed it out is beyond me. He was in the perfect position but sill claimed he didn't see it and, as is always the case when you're struggling, poor old Rangers went on to lose to one of their relegation rivals.
That said, Hughes' men really need to up their game if they are to avoid an immediate return to the Championship, with games against Liverpool (a), Arsenal (h), Manchester United (a), Tottenham (h), Chelsea (a) and Manchester City (a) still to come this season!
At least the footballing gods were smiling on Bolton this time, after Gerry Taggart's similarly disallowed goal against Everton back in 1997 when the Trotters were eventually relegated on goal difference.
Rob McCarthy
Fuller stamp indefensible
As a Stoke fan, I wish I could say that Ricardo Fuller was unlucky to be sent off at Chelsea.
Unfortunately it was the most clear-cut red card you're ever likely to see after a moment of madness from the striker. I'm usually proud of Stoke's discipline on the pitch - our players are never booked for dissent, don't play-act and are rarely petulant - but I'm embarrassed and ashamed by Fuller's behaviour.
He was caught late by Branislav Ivanovic, but that is no excuse whatsoever for stamping on a player's groin. Fuller is one of my favourite all-time Stoke players but he's out of contract in the summer and, after this, I'll have no complaints if Tony Pulis decides to get rid.
I really fancied Stoke to get something from Stamford Bridge, too, but there was only ever going to be one winner after the Fuller red and so it proved. However, I doubt Chelsea fans will be getting too carried away as they made hard work of it and looked shaky at the back, even against our almost non-existent attack. Mark Holmes
Rovers' double act
Junior Hoilett hit the goals for Blackburn as they beat Wolves 2-0 in a relegation six-pointer at Molineux. Hoilett and Yakubu looked lively all afternoon and Hoilett's clinical finishing proved to be the difference between the two sides. Wolves lacked a cutting edge in the final third, while Hoilett was lethal in front of goal.
If Hoilett and the Yak maintain their form in the run-in, then Blackburn have a real chance of beating the drop.
Rovers are trying to tie Hoilett down to a new deal but on this evidence the tricky winger will be in demand come the summer, when his current contract comes to an end.
Hoilett has been linked with a Bosman transfer to German giants Bayern Munich at the end of the season and a switch to the Bundesliga looks a real possibility.
The winger, 21, has already played in Germany, having enjoyed loan stints at Paderborn and St. Pauli. And Hoilett would be an ideal replacement for Arjen Robben, 28, should Bayern look to cash in on the injury-prone flying Dutchman. Sam Nightingale