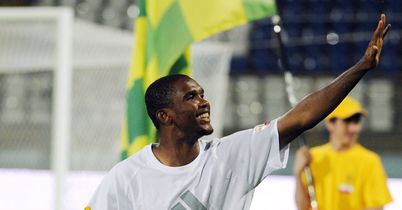 Anzhi Makhachkala have signed the likes of Samuel Eto'o and TEAMtalk's Sam Nightingale feels the club could soon shake up European football.
The Russian Premier League side were bought by Russian billionaire Suleyman Kerimov in January 2011 and Kerimov reportedly plans to invest over $200million (around £125m) in the club's infractructure, including a new stadium.
Anzhi signalled their intent to sign some of the world's best players when they brought in Cameroon striker Eto'o from Inter Milan for around £24million this summer on a three-year deal.
The switch made Eto'o the highest-paid player in the world and he earns around 20.5million euros (£17.8m) a year.
Veteran Brazilian full-back Roberto Carlos was the first big name player to join Anzhi in February 2011, while midfielder Yuri Zhirkov also made the move this summer.
In an interview with CNN World Sport, Eto'o said of his move to Anzhi: "I don't care what people think. I think all of us want to work and get paid what we are worth. Anzhi made an offer, which was at the same level as my talent, and they are paying me what they think I am worth."
Eto'o also revealed that Kerimov has big plans for the club: "He (Kerimov) told me he wanted to build a big team and he had thought about me as someone who could lead that project."
And Eto'o suggested that further big names could join Anzhi as the club looks to develop.
Eto'o said: "I am happy that more players are thinking about coming. Many of them are important players and they have been linked with clubs here. That is a big victory for Anzhi and the club is giving an opportunity for Russian football to attract stars. I have to tell you that practically every day I get a message or a phone call from a high profile player who wonders whether there are opportunities to come here because the truth is the future of football is in Russia. Furthermore, I believe that leading up to the World Cup here in 2018, the quality of the league will be better."
Anzhi clearly have some serious financial muscle and it looks as if Kerimov is planning a similar project to the ones currently taking shape at Chelsea, Manchester City and Paris Saint-Germain.