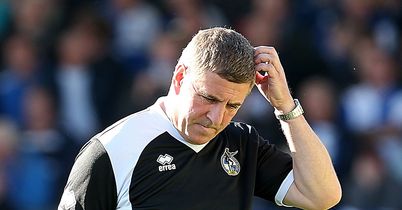 Mark McGhee pulled no punches after Bristol Rovers' 1-0 loss at managerless Accrington on Saturday afternoon.
The clash looked like it would peter out into a goalless draw until, with 11 minutes remaining, Luke Joyce found Rommy Boco on the left and Padraig Amond got in front of the visiting defence to fire home his seventh goal of the season.
McGhee said: "We were well beaten. I do not think we have played a game this season where the opposition have had so much of the ball.
"We just never got into the game and I have complaints - I was standing on the touchline and the goal was inevitable.
"Three or four players were well below par but that will remain in the dressing room, they know who they are. You need 11 players for any game and we didn't have 11 here.
"We did not compete well enough, we did not stop them from playing and we were on the back foot for most of the game. Their goal was coming."