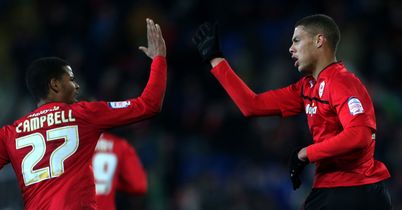 FanZoner Ivor Castle assesses Cardiff's midfield and attacking options and believes Malkay Mackay needs to sign a few reinforcements.
The final minutes of the final game of the 2013 Championship season will etch itself into Hull City's folklore over the years to come. For Cardiff, already Champions by then, it will be an exciting memory of a game in which the Bluebirds played a full part.
The game as a microcosm of the season probably lent a knowing nod to Cardiff City's consistency and never-say-die attitude, something not only installed by Malky Mackay but also a result of his shrewd transfer signings. Mackay bought players of character, bursting with endeavour and belief.
That game may also have offered a small glimpse into the future direction and make-up of the forward line now preparing for the Premier League.
The patient and long-suffering Slovenian, Etien Velikonja, started the game up front and proved to be what Mackay already knew him to be. He wasn't ready for Championship football and by extension, is not ready for the Premier League. Another season as an understudy looks likely.
Fraizer Campbell returned with a class goal against Hull, assisted by another class player, South Korean midfielder Kim Bo-Kyung. These two have Premier League stamped all over them.
A fit Campbell would have scored enough goals to have put Cardiff even further out of sight in the Championship race if he had stayed clear of injury during the run-in. Surely, enough of those end of season draws would have been wins if Campbell had been fit. With seven vital goals in 12 games his strike rate amply repaid the £600,000 he cost in the January transfer window.
The other striker who took to the field against Hull City was Nicky Maynard. The former Hammer suffered what appeared to be a season ending anterior cruciate ligament injury last September on only his third appearance for the club. The former Crewe and Bristol City starlet entered the fray as a substitute with just minutes remaining and was immediately presented with the chance to score. He duly obliged, coolly slotting home the penalty-kick to level at 2-2.
Mackay was confident after the game that Maynard was a Premier League quality player and would have led the goalscoring charts for Cardiff if he had been fit. Despite this claim and Campbell's class, Cardiff will need to give these two a lot more support next season and a multi-million pound striker or two must be added to the squad.
Rudy Gestede has improved and at 24, is also in the same situation as Velikonja regarding development. Big Rudy has been Mackay's Plan B when needed. The Benin international offers a strong, physical presence and a serious aerial threat but you feel Cardiff will need a better quality Gestede-esque type player for the Premier League.
One attacking player who did not see the field that day was highly rated 22-year-old Joe Mason. Mason did not fit Mackay's team shape and formation on the day but he is way too good a player to cast aside. He is a cool finisher and good in tight spaces. He is excellent in the final third when the game is small.
Despite the depth of forwards with Gestede, Velikonja and Mason I think Mackay will certainly need to replace his top-scorer, the departing Icelander Heidar Helgusson with a Premier League performer.
The Iceman should be highly praised for his contribution to the Championship title success. Despite having his critics he did everything Mackay could have asked of him, a model professional. His replacement will cost millions.
The midfield attacking force came predominantly from the flanks with the three Craigs, Bellamy, Conway and Noone all shining. All three contributed important goals and performances.
For Cardiff born-Cardiff fan Bellamy the Premier League holds no fears. His experience and pace will be helpful but I think he would expect to be a bench player if the Bluebirds are to maintain their place in the division for 2014/15.
Scottish international Conway topped his season with an incredible strike at Burnley but doesn't look the Premier level wideman needed. On the opposite flank, former Brighton man Noone poses more of a threat but has a lack of power and strength which could be an issue.
In the center of midfield, 21-year old Jordan Mutch looks an excellent prospect and continues to improve. Aron Gunnarsson, a solid, battling midfielder who popped up with goals, and as captain of Iceland showed his leadership qualities. Add the enterprising South Korean Kim Bo-Kyung to that mix and Cardiff may need minimal strengthening here.
Don Cowie (30) and Tommy Smith (32) will probably need to look for pastures new if they expect to play regular football next season. There doesn't seem any way they can be considered Premier League players at this late point in their careers.
Midfielders Joe Ralls (19) and Fillip Kiss (21) have time on their side.
That leaves one inspirational midfielder still to consider.Twenty-eight-year-old Peter Whittingham became something of a forgotten man during the climax to the season. For Whittingham, the man who could never be dropped, the season soured into one few could have imagined. Mackay took a long time to rest the out-of-form former Aston Villa man but when the results kept going our way, he was in no rush to return him either.
Mackay showed a distinct loyalty to Whittingham as he waited for the number seven to play himself out of his funk, but also a distinct loyalty to his replacements as well. The myth that Cardiff could not be the same team without Peter Whittingham was blown, Cardiff just kept on going.
The unthinkable might be that Mackay should even cash in on his once prize asset if the right offer came along. It's not what I expect, but in football you never know.
Don't forget to follow @FanZone on Twitter.