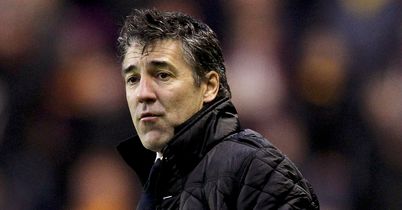 Wolves FanZoner Karl Sears believes things will get worse before they get better for the club - and he blames the players.
Back in November, I wrote a piece bemoaning the fact that we were heading for a season of mid-table obscurity. Well, how I long for those heady days of 12th place now.
Dean Saunders' record at Wolves now reads: P7, L3, D4 W...0. Yep, after losing at Barnsley there is still a big, fat zero in the win column. For the first time since Saunders took charge just over a month ago there is some real anger, and fear, amongst the Wolves fans.
The nay-sayers who bemoaned Saunders' appointment as the 'cheap option' and as 'a man without enough experience' are wearing an 'I told you so' look on their faces - paired with a weary grimace. Those who were willing to give Saunders time are also now feeling their patience wear a little thin. Whatever camp you put yourself in back in January, you're likely to be feeling the same way now.
Prior to the Barnsley game on Tuesday night there was a certain air of cautious optimism amongst the fans. Many were taking to Twitter and Facebook and predicting, buoyed by the clean-sheet and draw at Derby, that this game would get our season back on track.
Many also felt that Saunders was finally addressing the problem that was ignored by Terry Connor, Stale Solbakken and, for the large part, Mick McCarthy: the defence. Even though nothing was done during the transfer window, Saunders' first two loan signings were both defenders.
When managers take over at a struggling club, more often than not his first job has to be suring up the defence - you won't lose games if you don't concede goals. Fact.
Even QPR started to look impressive once they started keeping clean-sheets under Harry Redknapp. So seeing some fresh faces in the back-line was nice and a step in the right direction.
A Saunders quote to emerge on Tuesday from the Wolves website even got me feeling optimistic: "I've explained to the players what I think all the supporters would want to say to them.
"And that is: 'Do you realise what situation we are in? I hope you do.' We're in a tricky situation and I have said to the players they have to realise that - we have to make sure we are in this league next season.
"You should be proud to play for the club. I'm proud to be the manager. Every time you pull on a Wolves shirt you are lucky. The minute you start thinking you are not, you are in the wrong job, and the wrong club."
Stirring words indeed. But words are words, and actions speak louder. The actions have been somewhat less stirring.
When teams get relegated from the Premier League and descend into free-fall there is usually a reason for it that goes beyond the pitch. Teams overspend in the Premier League, then get into debt and have to sell half their squad to survive. This hasn't happened at Molinuex. Granted we lost Steven Fletcher, Matt Jarvis and Michael Kightly, but other than those three we remained mostly intact - far from a club in financial plight. So where do the problems lie?
While the manager has to take a certain amount of blame, problems chronic throughout the squad are more stark than ever. Saunders is the fourth manager who has been unable to extract good performances from largely the same group of players, and it is they who should be taking much of the criticism.
Defensive problems have been well documented, but the stat that hits me more than any other is this one: since the 28th of September, Wolves have only scored more than once in a game on five occasions - five times! If a team can't defend, that's one thing. But one which can't defend or score goals is going to be relegated, it's as simple as that.
Whilst perusing the Wolves message boards I came across one post that captured the post-Barnsley blues better than any other. The poster simply asked: IF Dean Saunders got WWFC out of this current situation, would you trust him to be able to make the step up, next season, and challenge for promotion? The 71 responses were unanimously negative.
So, will things get better? Nope. Cardiff and Watford at home are to come, and with our home record as it is, things are likely to get worse before they get better...much worse.