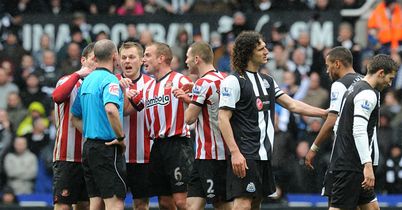 TEAMtalk guest Michael Graham looks ahead to the Wear-Tyne derby and says the rivalry is so fierce due to a conflict that pre-dates football.
This Sunday sees the first North-East derby of the season as Sunderland and Newcastle meet at the Stadium of Light. Across the region, tensions are starting to build and friendships are becoming strained. All pretty standard fare in derby week.
The rest of the country, however, are probably wondering why it is a game they should actually care about at all.
It's an understandable question, in fairness. It isn't a fixture that decides the destination of the Premier League title like the Manchester derby did last April. Nor is it a fixture that battles it out for the spoils of history like when Liverpool clash with Manchester United. Some may even question whether a game contested between clubs from different cities can even be legitimately called a derby.
Lets face it, neither club involved are customarily around when silverware is being handed out, so this is surely just another game of little tangible consequence, right?
If you are thinking any of that, then I implore you to have a re-think. Don't expect it to be an artistic success, but if you love high-octane fully committed football with a propensity to descend into a physical free-for-all at any moment - even without Lee Cattermole involved - then this is a game very much for you.
In an odd kind of way - a soul-crushingly brutally demoralising kind of way - the relative footballing irrelevance of the sides involved in this fixture actually gives it its appeal. If regional supremacy is not secured, then what do they usually have left to show for their seasons? It produces a real 'all or nothing' sense of occasion.
Whilst the modern day arena for battles between the Tyne and the Wear is football, what perhaps makes this rivalry so fierce is that it is a conflict that pre-dates football by hundreds of years.
The people of Sunderland and Newcastle have been at odds with each other since the 1600s over trade, natural resources, division of wealth, and have even been to war against each other at the Battle of Boldon Hill in 1644.
The industries have gone. Political disputes have gone. There is barely a scrap of wealth left in the region to fight over. All that is left to absorb hundreds of years worth of bitter and tribal rivalry that consumes an entire region, passed down from generation to generation as an oddly cruel right of passage and birthright, is football. That's what gives it an edge perhaps unlike anything else on the fixture list.
Davide Santon has even gone so far as to favourably compare the fixture to the Milan derby. The former Inter defender said: "The Milan derby is a very important game but not like this one. Here there is more rivalry, everybody thinks about the game, it's fantastic."
There is a little diplomacy and soundbiting involved, of course, so a degree of sensible scepticism is advised, but if you are talking about a footballing rivalry in the purest sense of the word - a fixture that does not need wider consequences and trophies attached to it to carry the utmost level of importance to all involved - then the Wear-Tyne derby is right up there in that sort of company.
It is certainly a fixture that has the power to define people and shape the seasons of the clubs involved. Steve Bruce has often insisted that defeat to the Magpies in this fixture last season made his job untenable on Wearside, where as Gary Rowell is still revered at Sunderland for a hat-trick at St James Park over 30 years ago. When the Newcastle players wanted to pay tribute to injury victim Ryan Taylor in September, they wore tracksuits with the words 'Ryan Taylor over the wall' - a nickname born from his free-kick winner at the Stadium of Light last season.
I am not going to sit here and tell you that it will likely be a game for the purists. It's not. If anything it is a throwback to a much more uncivilized era or our game. There will be bad tackles and petty squabbles.
But make no mistake about it; this is a game that matters. It simply matters in glorious isolation rather than within any kind of wider context. It is football in its rawest and most emotive form and not an occasion you want to miss.
You can follow Michael on Twitter @Capt_Fishpaste.