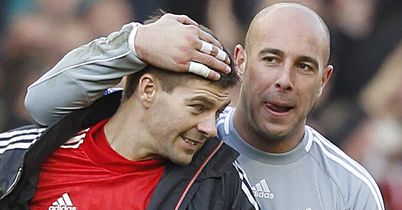 TEAMtalk's Pete Hall presents his disappointment XI of the Premier League season so far, with some big names surprisingly making the squad.
Following on from our most improved XI last week, we now focus on the those players who have failed to impress in the opening nine games of the Premier League season, despite high expectations.
These players might not be the worst performers in the Premier League, or have done a great deal wrong, but they have either set themselves high standards from their performances last season, continued their steady decline or simply have moved to a new club with a big reputation.
You can choose any formation and there's no limit on how many players you can pick from each team - so have a think, then get involved.
TEAMtalk's Disappointment XI (4-4-2): Reina, Walker, Kompany, Williams, Evra, Sigurdsson, Nani, Gerrard, Sessegnon, Cisse, Giroud.
Pepe Reina: An easy choice. His form has been suffering for several seasons now, with confidence seemingly a real problem for the Spaniard. However, this season has seen the Reds stopper make some errors Sunday League footballers would be embarrassed with.
Liverpool are not in the position they are in because they have conceded too many goals, but a high proportion of the goals they have conceded could easily have been prevented with some solid goalkeeping. Beaten at the near post, basic fumbles and poor communication are just some of the common occurrences Reina has been susceptible to, on too often a basis for the Anfield faithful.
Kyle Walker: The England full-back's form has not been catastrophic, but last season's PFA Young Player of the Season has certainly not lived up to that billing. Inconsistency has been his main issue, with Spurs' overall indifferent form not helping matters.
Walker has recently had to delete his twitter account after the 22-year-old received a tirade of abuse following a lacklustre display against Chelsea, culminating in a error that led to the Blues' fourth goal.
Vincent Kompany: This is possibly my most surprising pick of the lot. In the summer, I never would have thought the inspirational Manchester City captain, who was almost unbeatable last season, would be considered in this selection.
The champions' defence as a whole has been suspect on occasions, and Kompany's form has not helped. His error that let in Shane Long resulting in James Milner being sent-off at West Brom could have been costly for City, but luckily for the Belgium captain, his team-mates were made of sterner stuff. This might not be the case next time around.
Ashley Williams: The new Wales captain played a pivotal role in the Swansea's success in their first season in the Premier League, but has struggled this time out. After an impressive start, three defeats in a row brought the Swans back down to earth with a bump, and defensive frailties, of which Williams was uncharacteristically a major part of, made life much easier for opponents. If Michael Laudrup is to remain at the helm for a sustained period, Williams, who has just penned a contract extension, will have to up his game.
Patrice Evra: This choice is not really surprising, as the Frenchman's form has been suffering for several seasons now. However, he has made a shaky start to this campaign, and looks more vulnerable than ever. His swash-buckling attacking play is still there, but Manchester United's leaky defence, especially on their own patch, is partly down to Evra's poor positioning. The full-back seems to have gone missing for large parts of the game, leaving an already out-of-form United backline exposed.
Gylfi Sigurdsson: One of the most talked about transfer sagas of the summer came to a surprising end when the Icelandic star completed his switch to White Hart Lane, with goals predicted from the attacking midfielder.
Yet to get off the mark in the league, the former Swansea loanee has hardly set the world alight with Spurs, despite playing in a free attacking role. Andre Villas-Boas will be looking for more from one of his summer signings, with goals needed to repay the faith shown in him.
Nani: Until Christmas last season, Nani looked like he could achieve what he has always said he is capable of - a level of performance to match that of Cristiano Ronaldo.
However, as soon as those words left his lips, the decline began.
In the first nine games of this campaign, the Portuguese winger has struggled to hold down a regular place in the side, with even central midfielders ahead of him in the pecking order. Nani's biggest issue is his final ball and his wayward crossing. He has been able to combat this on occasion in the past with some spectacular goals, but this season his delivery has moved to a new level - it's got much worse.
Steven Gerrard: A controversial pick, but one I believe is justified if you compare the Liverpool captain's current form to his usual high standards.
Gerrard was the stand-out player for England in what turned out to be a disappointing European Championship campaign, at times carrying the side, and many thought he could build on his impressive international displays and take Liverpool to the next level.
Things haven't gone to plan so far for Brendan Rodgers, or for Gerrard. Two goals in nine games is not what we are used to from the Reds' skipper, and he has failed to kick on and do what he has done throughout his Anfield career - turn it on when it matters.
Stephane Sessegnon: One of the biggest disappointments in the line-up. After a season that saw the Benin international linked with several high-profile clubs in the summer, the attacking midfielder is yet to get on the scoresheet, and without even an assist to his name, boss Martin O'Neill is starting to get frustrated with last season's star man. He is capable of more, and one goal maybe the catalyst, but he needs that to come sooner rather than later.
Papiss Cisse: A huge let-down. The 2011/12 goal-of-the-season winner only arrived at St James Park in January of this year, but set the world alight with his prolific form, netting an impressive 13 times in 14 outings.
However this season has been a different story all-together, only getting off the mark in the Premier League last Sunday, thanks to a fortunate deflection.
His team-mates have even tried to help him out, with Ben Arfa allowing the Senegalise hitman to try and open his Premier League account from the spot, but his penalty kick against Norwich is still in orbit somewhere in the Tyneside skies.
Olivier Giroud: Harsh, perhaps, after such a short time in the Premier League, but Arsenal fans will agree that for a player of his ability, and a proven track record, he should be doing much better.
The French hitman has the added pressure of following in the footsteps of former captain Robin Van Persie, but last season's Ligue 1 top scorer knows if he doesn't start to find the net on a regular basis, fans will soon start to turn on the 26-year-old, more than they already are.
Substitutes:
Adam Federici - Highly-rated Australian committed two costly errors in Reading's first two games of the season before being dropped.
Darren Bent - Left out on several occasions, which was unthinkable last season.
Gael Clichy: Looked out of sorts so far, with formation changes leaving him looking bewildered.
Daniel Agger - Adequete so far, just not as good as last year.
James McLean - Tricky winger looks like he has been found out.
Ryan Giggs - Looks like his career may be coming to an end, but hopefully he can pick up his game, and end on a high.
Fernando Torres - Only just misses out on the starting XI. Depends what mood he is in.