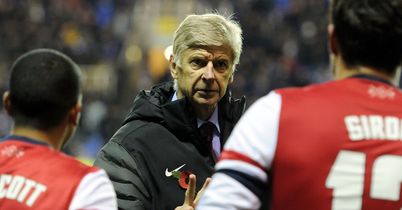 Arsene Wenger maintains a top-four finish is as good as winning a trophy - but TEAMtalk's Rich Kitto feels Arsenal fans won't buy that forever.
'If you want to attract the best players, they do not ask 'did you win the League Cup?' They ask you 'do you play in the Champions League?' - Arsene Wenger
On the eve of Halloween, it appeared Arsenal were suffering a complete horror show at the grip of Reading, but an extraordinary fight-back turned the night from fright to delight in a cup competition that their manager openly admits is not of paramount concern.
But is Arsene Wenger correct in his claim that qualification for the Champions League is as important as winning a domestic trophy? Are fans content to see their team go another year without silverware? Or is finishing fourth in the table worthy of celebration in this day and age?
Whatever the manager may say and feel about the League Cup, after the performance that his players put on in the second half and extra-time of their game at Reading to turn a 4-0 deficit into a 7-5 win, his squad don't appear to share the same sentiment.
Despite the sheer spectacle of it, and although they came out eventual winners, many negatives are still being said of Arsenal's performance on Tuesday night, with concerns raised by the manner in which they leaked goals.
It's a pointless statement. As he always has done, Wenger treated the game as an opportunity to blood some of the youngsters and give a run-out to a few of the wider squad who do not typically play and needed game time - and so he should do.
Pundits and managers will continue to say that the 'bigger' clubs persist in showing the competition a lack of respect, but there was an average change of eight players to the starting line-up for the teams that walked out on Tuesday, including Leeds and Wigan.
Southampton changed their whole team from the one that lost to Spurs and were then soundly beaten by Leeds - so the League Cup is no longer a priority for the bigger teams who have larger fish to fry, whilst the smaller teams choose to focus on survival. No wonder Wenger has questioned its importance.
But still, are his comments completely justified? Or is it a case of making a bed for his own back and protecting what has been a dismal run of years without winning a trophy? Although there is no doubt that the Capital One Cup is the least reputable of all domestic competitions, it is still a great opportunity to go to Wembley and lift a trophy. And for a man carrying a rather large monkey on his ageing back, it does seem the ideal way for Wenger to dust off the keys to the trophy room and make space in the cabinet.
Just ask Liverpool fans. Although last season's Premier League performance will quickly be forgotten, winning the Carling Cup will forever be etched into their history. And for a group of supporters desperate to see their team return to the glory days, it was a nice reminder of how it felt. Though saying that, had Kenny Dalglish got his team back into the top four at the expense of any cup success, would he still be in the job now? I think it's doubtful, but the question will always remain.
But it is a sad incitement when a cup competition is devalued. Memories are cast back to when Manchester United gave up their place in the FA Cup for foreign shores, and there is an argument that if you're not going to take it seriously, then do you even deserve to be in it?
Wenger's opinion may be one thing, but what about the players - isn't winning a trophy still the most coveted of prizes compared to telling your grandchildren you finished fourth in the league three years in a row? William Gallas believes that collecting medals will always come first: "It doesn't happen many times through your career, so for me to finish second or fourth isn't the same as finishing top, as champions. It's completely different."
But ultimately, money talks. Failure to qualify for the Champions League could result in a loss of potential earnings of around £20million for Arsenal, whilst victory in the League Cup will receive nowhere near that - and Wenger is right in the assertion that you must be in the Champions League to attract the top players from around the globe.
Again, with reference to Liverpool, failure to qualify once can set you back five years. Portsmouth have paid almost the ultimate price for their FA Cup victory, but would fans change all that for them to remain a middle-of-the-range team with no silverware? I'm not so sure. Meanwhile, so much is made of money at Arsenal, and Financial Fair Play, that surely it won't be too long before they begin etching their yearly balance sheet numbers around the stadium.
But attracting the best players is one thing, and retaining them is completely different. The club became a laughing stock when having been at Barcelona for merely two weeks, Cesc Fabregas had already picked up two winners' medals, something he never experienced in all his years in north London. Similarly, Samir Nasri has every right to be feeling smug after his move to Manchester, as does Ashley Cole at Chelsea. Yes, qualification for the Champions League will attract players, but only winning trophies will keep them.
Wenger is obviously no fool, he knows the situation, but the last time he tasted 'genuine' glory was on May 21, 2005, in the FA Cup final against Manchester United. Seven years without further success is very difficult to justify to supporters, regardless of comments he made after the closing day of 2012 season: '[We have] qualified for the 15th year in a row for the Champions League and we are proud of that. Only three clubs in the whole of Europe have done that.'
I'll finish with a quick trivia question: which manager has suffered the longest spell without lifting a trophy? Alex McLeish, Harry Redknapp, Arsene Wenger or Gordon Strachan? The answer, both surprisingly and unsurprisingly, is the Frenchman. For Wenger to remain the answer to who fans think is the right man to take their club forward, he has to win an authentic trophy very soon.
Rich Kitto