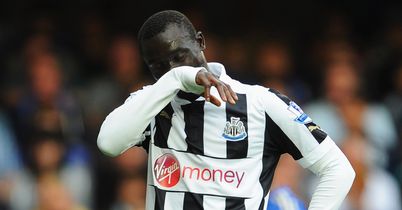 Papiss Cisse was prolific for Newcastle last season, but his form so far this term has been poor. TEAMtalk's Jak Penny asks: what's gone wrong?
It's not exactly uncommon for strikers to experience a prolonged barren spell in front of goal. It happens to the best of them. But Papiss Cisse's current crisis of confidence has the whole of Tyneside scratching their temples.
Not many could have forecasted the trail blazed through the Premier League by the Senegal striker upon his arrival in January, scoring 13 times in 14 games, and inspiring Newcastle to a top-five finish as well as a return to European competition for the first time since 2007. More of the same was expected.
Fast-forward to the current season, and Cisse's story has taken an adverse twist, misfiring at an alarming rate as the pressure to revive his fortunes continues to build. Failing to forge an effective partnership with fellow countryman Demba Ba has almost certainly been a major factor in his rapid decline, as has the raised expectancy and reliance on him to provide goals.
Both displayed their prowess last season, albeit at differing points and, crucially, in different formations displaying their incompatibility as a pairing.
Ba's 16-goal haul primarily came playing in a front two alongside Leon Best and Shola Ameobi during the first half of the campaign, before becoming a square peg jammed into a round hole once Cisse touched down on Tyneside.
And his hot streak fully justified Alan Pardew's decision to change the tactical layout that saw him deployed at the apex of the three-pronged attack.
But the former West Ham boss has now attracted the ire of Newcastle supporters for his reversion back to 4-4-2, largely facilitated by Ba's reluctance to operate in the wide-left position and an eagerness to keep Cisse in the starting line-up.
As a result, the latter has struggled to define his role in the team this season, turning in a series of below-par displays when asked to work in tandem with Ba, and has looked increasingly impotent in the final third of the field.
Wonder-strikes aside, the most impressive aspect of Cisse's play was his knack of drawing defenders out of position with quick and clever movement across the back four. It not only opened up space for himself in goalscoring positions, but also for others advancing towards the penalty area.
This season, there haven't been enough of those runs. Instead, Cisse prefers to stand motionless betwixt defenders, more often than not with his back to goal, while waiting for a quality ball to be played into his path before getting involved. There's no debate about his work ethic out of possession, but when Newcastle have the ball, the desire isn't there to make something happen.
In fairness to him, the service from midfield has been frighteningly sub-standard and playing alongside Ba in a majority of games renders him virtually inanimate. To everyone except an oblivious Pardew, it's painfully clear that the unison he craves between the two will never be struck. But he wants to make them work.
Despite the welcome return of 4-3-3 against Liverpool on Sunday, Cisse drew the short straw and was forced to operate out wide. It summed up his current circumstance in a nutshell. Playing him out of position for the sake of having him in the team won't solve the issues that are currently causing great concern. It will only exacerbate them. In fact, it was another performance that straddled the definition of ineffectual.
To the more discerning supporter, the resolution is crystal clear, but one that Pardew seems unable to bring himself to execute. It boils down to a case of either rotating both players in the central striker position, a role Ba fully warrants right now, or dropping Cisse altogether.
Consequently, the danger the latter scenario poses is hammering a severe dent into his confidence - something that Pardew seems keen to avoid. But how much time will Cisse be given to get himself back up to speed?
It was hoped that his fortuitous winning goal against West Brom - which ended his 11-game league drought- would break him from his stupor, but there were very little signs of improvement at the weekend.
Pardew continues to publicly back Cisse to rediscover his scoring touch sooner rather than later. But should he continue to tread an impoverished furrow on the flank, his once-secure starting spot will surely have to be offered up.