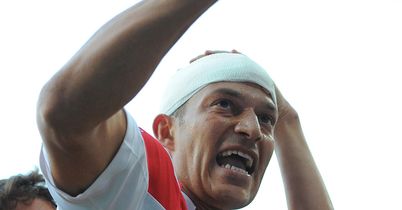 Bobby Zamora has been slammed for daring to admit he's not crazy about football but TEAMtalk's Jon Holmes doesn't feel players have to be fans.
They say the bond between supporters and those they pay to see play has never been weaker. Financially speaking, at the higher levels of the English pyramid, there's no argument - one glance at the vehicles in any training-ground car park is enough to confirm that.
However, take money out of the equation and most fans wearing their replica club shirts won't feel too different from those who wear the jerseys professionally. There will always be the odd mercenary, but at the basic level it all boils down to a love of the game. Right?
Not necessarily.
"I'm not a massive football fan, really. Quite a lot more players than let on are the same," Bobby Zamora told the Daily Mail over the weekend.
"I don't watch games on an evening or anything like that."
Sacrilege! Blasphemy! Outrage! Football seems beset by serious problems at the moment, but some would have you believe that Zamora's heretical stance should be added to the list - especially if his claim that there are other heathens lurking amid the professional ranks, plotting schism and strife by way of their very indifference towards whatever live offerings are on the telly this week.
"If your heart's not in it, Bobby, get out of the game!" bellowed Tony Cascarino in his Times column, pointing towards the infernal flames of hell like a fired-up 17th-century preacher.
Hang on. We ask for players to open up in interviews, but then throw a hissy fit when they say something honest that we didn't want to hear? What difference does it really make if Zamora and his pals aren't swapping Panini stickers, debating their latest fantasy transfers and waiting eagerly for the next blog to appear on their favourite football websites? That might work for self-confessed football nut Jamie Carragher, but it's overkill for many others.
QPR have had a lousy first three months of the season, but don't tell me that Zamora's atheistic approach to our national sporting religion has hindered his efforts on the field.
The 31-year-old needed a series of hip injections in order to play against Reading on Sunday, not to mention the fact he turned out in a Capital One Cup tie against Walsall earlier in the season only days after suffering a serious gash to the head at Norwich. Zamora was still wearing a big bandage round his bonce when he nodded home an equaliser at Manchester City on September 1, his face showing all the passion and emotion you'd expect from any player who's just scored away to the Premier League champions.
Perhaps Zamora was unwise to mention his lapsed faith in football; he sparked a fuss earlier in the campaign too when he said that several of his old team-mates still at Fulham didn't get on with Martin Jol either. Yet finding someone to speak candidly is so rare among players these days that it seems wrong to castigate the Rangers frontman for his confession, especially when there is no discernible evidence that he's not putting in a shift for Mark Hughes and his team-mates.
A couple of years ago, Benoit Assou-Ekotto made no bones at all about his motivation when he told The Guardian: "I play for the money. Football's not my passion." Yet no angry pitchfork-waving mob comprised of Cascarino and his ilk formed that day to march on White Hart Lane and drive the Tottenham left-back out of the club. The fact Spurs were firmly in the race for fourth place at the time, and would go on to qualify for the Champions League, certainly helped - his words were well received in many quarters. 'How refreshing!' was a common reaction.
Fans are often lumped together in the same bracket, much to their annoyance. Bad-taste chants directed at Robin van Persie from the away end at Old Trafford on Saturday cast those loyal to Arsenal in a bad light - but of course, not all Gunners fans present were singing them, and some were disgusted enough to speak out against it. Likewise this season, individuals and pockets of 'supporters' who associate themselves with Manchester United, Chelsea and Leeds United have overstepped the mark so grossly that their words and actions have made many other fans across the country recoil from the game. How can we then chastise footballers for wanting to turn off too?
Football provides players with an expensive lifestyle, and they have responsibility to their employers and the supporters too - but asking them to be pure of thought about the beautiful game is unrealistic. Zamora might be a hermit at home as far as football is concerned, but he'll put his heart and soul into his job on the pitch - and fans should be faithful enough to respect that.
You can follow Jon on Twitter at @jonboy79.