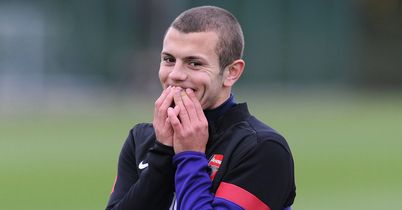 Arsenal's Jack Wilshere may still be only 20 years old, but Rory Dollard appreciates why his England return is being so hotly anticipated.
After only three starts, one red card and 90 minutes of action in the Champions League, Jack Wilshere is already back on familiar territory as one of the most talked about properties in English football.
Ordinarily, this may appear a grim verdict on the country's midfield options, but it has long been assumed - rightly or wrongly - that the Arsenal man is no ordinary case.
Wilshere did not kick a ball in anger last season and, prior to his Gunners comeback against QPR on October 27, had not played a top-level match since lining up for his country against Switzerland in June 2011.
That a player freshly returned from such a lengthy spell on the sidelines, not to mention one who can only point to a solitary full season of Premier League experience, finds himself the subject of a tug-of-war between club and country is certainly unusual.
Yet the interest in the 20-year-old's return - from fans and pundits to Arsene Wenger and Roy Hodgson - comes as little surprise.
Hodgson wants to integrate Wilshere into his England side as quickly as possible and was not inclined to allow him a spell of R&R when the national side get together next week.
His eagerness to touch base is understandable for despite all the relative merits of Steven Gerrard, Frank Lampard and Gareth Barry, Wilshere is the man who truly promises to unlock the England midfield in the coming years.
The veteran trio have important roles to play in the immediate future but Hodgson views the Arsenal man, as his predecessor Fabio Capello did, not only as a younger model but a more nuanced one.
In effect, England have been in something of a holding pattern since Wilshere's untimely injury problems began.
A slick, possession-orientated centre is considered the Holy Grail for England as they evolve and Wilshere was long ago anointed as the man to deliver it.
After just five caps and no major tournament appearances, it is a hefty burden and there is no certainty that he can succeed. What is considered beyond doubt for the time being is England are unlikely to do it without him.
As if being charged with overseeing a sea change in his national's side's footballing mindset was not a big enough task, Arsenal have their own hopes and expectations.
Wenger's Arsenal have proved a tough proving ground for young English players - ask anyone from Francis Jeffers to the increasingly frustrated Theo Walcott - but the Frenchman is an unabashed convert to Wilshere-mania.
Having initially planned to ease him into the first-team picture in 2010-11, Wenger quickly conceded that the Wilshere was not merely learning from his more experienced team-mates, but leading them.
He went on to play 49 times for the Gunners in all competitions, put in a man-of-the-match display in a 2-1 Champions League win over Barcelona and was named as the club's player of year ahead of the likes of Cesc Fabregas, Robin van Persie and Samir Nasri.
All three of those have since moved on, only serving to increase Wenger's need for Wilshere - not only as an on-field general but an ambassador for the club's continuing ambition.
Unlike Fabregas, Van Persie and Nasri, he is a dyed in the wool Arsenal man, with the club since he was nine years old and, so they hope, less likely to answer when a big move comes calling.
Given the complex dynamics at play with at both Wembley and the Emirates, the truly remarkable thing is not that Wilshere is seen as a white knight with an answer to everybody's problems... it's that he just might be able to.
Rory Dollard, PA Sport