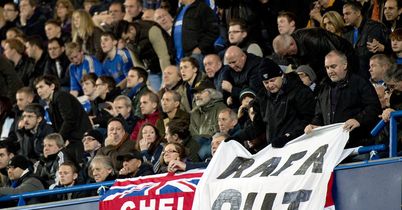 Rich Kitto believes the bad feeling from Chelsea fans is affecting the Blues as they look to get their season back on track under Rafa Benitez.
"The team's recent performances and results have not been good enough and the owner and the Board felt that a change was necessary" - Chelsea Football Club, 21st November 2012.
There were certainly fireworks off the field when Rafa Benitez was appointed manager of Chelsea, but so far on the pitch the reign of the man from Spain has been nothing short of plain.
Chelsea have now gone six league games without a win in the league after their limp performance in the 0-0 draw against Fulham on Wednesday night - leaving the Blues seven points behind Manchester United at the top of the league - with real signals of discontent beginning to emanate from around the stands.
So what now for Chelsea and their supporters? Should the fans now accept that a man they don't like is in charge and get behind the players for the bigger cause? Or continue to vent their anger and frustration at the apparent detriment of results?
Rafa Benitez was never ever going to have it easy after he agreed to take over Chelsea on a short term basis until the end of season but, in large, football fans are fickle creatures and results are ultimately what count, so there was a glimmer of optimism that if he could start on the B of the bang then things might not be quite so bad. Alas, that has not been the case, as Chelsea have drawn two successive Premier League games 0-0 for the first time since 2004, thus providing no reason for opinions to change any time soon.
Whilst Rafa may point to the 'facts' as he did when questioned on his attacking philosophies, he is not a man known for playing attractive fast flowing football that gets people out of their armchairs.
Benitez is a tactician, and, though he may suggest otherwise, the fact he has just developed a coaching app for the iPad designed to help everyone from Sunday League coaches to UEFA qualified managers, very much proves the point.
By dropping the extremely influential and in-form Juan Mata in place of the more defensive-minded Ryan Bertrand, Benitez tightened Chelsea's defensive make-up at the detriment of their attacking presence and squeezed the space out wide, forcing Fulham to work through a congested midfield.
As if announcing that two of their best performers over the last decade - in Frank Lampard and Ashley Cole - will likely leave at the end of the season wasn't enough to anger fans, resting their most consistent player of the campaign so far will leave them very red in the face.
The quote at the top of the page relates to the sacking of Roberto Di Matteo, explaining that, despite the sometimes exhilarating link up between the three attacking midfielders, performances had not been good enough in previous fixtures - so how must they view the start under Rafa?
This coming weekend Chelsea have an extremely tricky fixture against London rivals West Ham, a team that are currently performing above expectations and will smell blood. If the Blues fail to win, or even suggest that the tide hasn't changed, then Benitez will be under increasingly intense pressure already.
But he is not the only Spaniard in west London feeling the extra heat. By failing to score again on Wednesday night, Fernando Torres has now gone over 10 hours without a Premier League goal to his name, and supporters are now very quickly running out of time and patience. Earlier in the week, Benitez suggested that his form "is not the same now as when he was at his maximum but I think he can come back", though how far back he was not willing to commit.
Though many have said that the appointment of Rafa was the last throw of the dice for a Russian man desperate to get his £50million toy firing again, I feel that is not the case. Because of the storm surrounding him, it's almost been ignored and forgotten that this manager won two La Liga titles and the Champions League in extremely tough conditions - i.e. there is far more to Benitez's ability than simply being a pillow fluffer for his Spanish counterpart.
Because of this view that many share, all eyes are firmly fixated on Fernando, as fans desperately need him to find his form that made him so lethal under his new manager's old regime. The fact is, Torres will never recover that touch again, and the club would be much better placed to sell him back to Ateltico Madrid and January and do everything in their powers to bring in Falcao as return.
The mood around Stamford Bridge over the last two games has been described as rather sullen and bleak, with supporters waiting for reason to be woken out of their gloom.
Though they may not be stuck with Torres for much longer, the strong likelihood is that fans will have to grow accustomed to the man in charge whether they like it or not.
However, the sombre atmosphere has clearly seeped its way onto the field as, whilst contributed by tactics, the players' performances have been noticeably affected by the change in mood.
Surely fans wouldn't prefer to see the team lose at the expense of sacking another manager, would they? Either way, something has to crack soon otherwise all involved are in for an extremely long season - whether that be the supporters or the Spaniards, time will certainly tell.
Rich Kitto