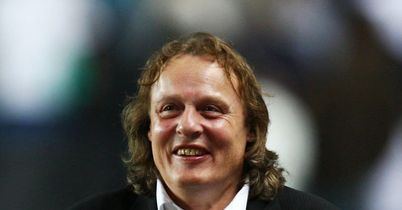 TEAMtalk guest blogger Mikey Burrows looks at the history of MK Dons and AFC Wimbledon ahead of their grudge FA Cup meeting this weekend.
They say "the truth shall set you free" but as we all know, that isn't always the case.
The FA Cup pairing of MK Dons and AFC Wimbledon has drawn up some bad memories for a lot of people but almost every article I read and television report I see, AFC are seen as the 'victim' - when 'the truth' paints a slightly different picture.
History and hindsight is a wonderful thing, but as we all know, it can be twisted and manipulated to suit certain agendas. In 2003, Pete Winkelman and the board of Wimbledon FC were the enemy of football.
The idea of moving a team from one geographical location to another appalled many football supporters, not least those of the club in question.
It could be argued moving clubs is nothing new. Manchester United started life in Newton Heath, not Stretford. Arsenal came from Woolwich, which technically should make them rivals with Charlton and not Spurs. In Scotland, Partick, Clyde and Livingston are all examples of clubs moving for whatever reason.
Granted very few of those moves were the distance of Wimbledon to Milton Keynes.
Now history tells us the 'evil' owners of Wimbledon FC stole the club from its fans and after moving it to Milton Keynes, forced them to set up their own club, which they duly entered at the bottom tier of English football and rose up through the ranks like a phoenix from the flames.
Except that's not really true. Here's what 'history' tends to leave out in favour of the new club and to the detriment of that which moved.
The move to Milton Keynes was not a new idea. As early as 1980, there were plans to move the club. Stephen Crabtree's 1996 book 'Dons in the League 1977-1982' reveals four members of the then Wimbledon board joined the board of Milton Keynes City, with chairman Ron Noades being quoted as saying: "Unless the pre-emption is sorted out, there is no future for us at Plough Lane. Milton Keynes has long-term potential. It can support a multi-purpose stadium, the potential is there."
In the mid 90s, Sam Hammam, one of the four to have joined with MK City in 1980, seriously considered relocating Wimbledon to Dublin. Nobody in the Premier League objected, but the move was halted.
Official reports from auditors Deloitte to the independent tribunal set up to investigate the move to MK estimated Wimbledon FC was losing more than £8million a year and half of that was attributable to not having their own stadium.
They had been effectively homeless for 11 years and an inquiry by the London Assembly revealed Wimbledon's owners had contacted 35 boroughs from inner London to Brighton. No one wanted them, and no one had room for a stadium.
The FA Commission looking into all this noted only 20 per cent of season-ticket holders were actually from the Borough of Merton and that only 10 per cent were from Wimbledon itself, so a move wouldn't be disastrous to the club's support.
The real truth is the then owners of Wimbledon faced the choice of letting the club die, or move. Some believe it should have been allowed to die. They started their own 'new' club. Others wanted Wimbledon to survive and stuck with it, even if it meant moving miles out of London.
Still the move and subsequent collapse of Wimbledon FC could have been prevented. In June 2003, the club went into administration. The fans who could have saved it had a year earlier started AFC, and decided to stick with their own project.
So in September 2003, Wimbledon FC moved. A year later and after another administration period, Winkelman took over and the name changed to Milton Keynes Dons.
History tells us all the fans of Wimbledon went to AFC - not true. Only 60 per cent of season tickets to Milton Keynes Dons were sold to supporters in the Milton Keynes conurbation, the rest to supporters elsewhere; the majority of which came from South London.
Some I've spoken to put the number of Wimbledon fans who followed their team to MK in the thousands, some reports in the hundreds. No matter the actual figure, what is categorical fact is that a large number of fans did stay with the team.
How do I know this? I've met them.
For many years, I reported and even commentated on the new club. I spoke to fans who told me stories of 30-year friendships ending almost overnight because one went one way and one went the other. The 'hardcore' MK support, who will always in their minds be 'Dons', have as much reason to be hateful to AFC as AFC do to them.
They blame the breakaway for the demise of their club, that a united fanbase could have prevented the move. They point to AFC not being allowed to play in Merton, buying Kingstonian's ground, entering at level nine of the football pyramid rather than the 19 they could have been asked to play in.
What's also commonly forgotten is that in 2007, both clubs and both sets of supporters agreed a peace deal. MK Dons gave up any claim to the history of Wimbledon and handed over the trophies and records to Merton Borough Council to be displayed for both sets of supporters to view.
In turn, the AFC side agreed to acknowledge the MK Dons and call off boycotts of their games.
In the years since, AFC Wimbledon have indeed gone through a meteoric rise through the divisions and now find themselves an established Football League club. MK Dons have built a brand new stadium which has hosted England Under-21 internationals. They took more than 30,000 fans to Wembley and won a trophy, plus the League Two title.
They are both worthy football clubs in their own right, doing great work in their respective communities and more importantly building their own unique histories.
MK Dons didn't steal Wimbledon's league place and they are not a franchise. They were born out of the same troubles as AFC Wimbledon.
Am I biased towards MK Dons? Yes.
Am I the only person writing an article on this situation who would admit any bias? Most probably.
All I'm saying is Wimbledon Football Club died. It had two children, admittedly two children who don't get on, but hey - who loves their siblings all the time?
What happened is in the past. No one on either side should be proud of the parts they played, but they both have an enormous amount to be proud of since. The FA Cup second round is a glorious opportunity to move on, because after all... both teams came from the same seed.
Listen to Mikey talk to MK Dons chairman Peter Winkelman here.
Listen to Mikey talk to Wimbledon Independent Supporters Association Chairman Simon Wheeler here.
Mikey is the host of the Sports Centre programme on Sky Sports News Radio weekdays from 4pm, listen online at www.skysports.com/radio or via the Sky Sports apps.
Follow Mikey on Twitter at @SkySportsMikey.