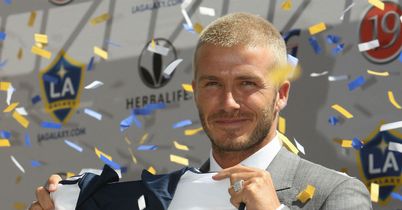 If the LA Galaxy can lift the MLS Cup, Ian Parkes believes it will be the perfect Hollywood ending for David Beckham's American adventure.
But as the plaudits roll in regarding his impact on the fast-growing league, it would be easy to forget the turbulent plot twists of his early years with the Galaxy and how much of the hype turned out to be spin.
MLS commissioner Don Garber said this week that Beckham had "overdelivered on every measure" in his time in the United States, but against which standard?
His decision to leave Real Madrid for Los Angeles in 2007 created an unprecedented situation - the most recognised face in football leaving for a burgeoning league only 11 years old - and some unprecedented expectations for what he could achieve for the league.
MLS grabbed the headlines of the sporting world with talk of a record-breaking contract worth USD250million over five years, although it took only a little digging to find out the deal was really valued at a fraction of that, USD23.5million, with the rest based on rather vague "potential earnings" from Beckham's numerous endorsements and investments.
MLS was happy to play along with the myth as long as the publicity kept coming, because that was their main goal.
For them it did not matter that Beckham joined a Galaxy team with a completely unbalanced squad, so much of their money sunk into attacking forces Beckham and Landon Donovan that they could not afford a decent defender.
The Galaxy floundered in Beckham's first year and a half in the States, perhaps a factor in his eagerness not only to join AC Milan on loan in early 2009, but then to stay there beyond the initial agreement, not returning until July when half that year's MLS season was already in the books.
This time the publicity was not so favourable. Angry Galaxy fans confronted Beckham on the pitch. Donovan contributed to a book in which he criticised Beckham for a lack of commitment.
He would win back some of the critics with decent displays as the Galaxy reached the 2009 MLS Cup final, losing on penalties to Real Salt Lake, but when his 2010 return to Milan ended with an Achilles injury which cost him most of another season with Los Angeles, it was easy to question what Major League Soccer was getting for its money.
His celebrity status was invaluable as MLS competed for attention in a crowded sports market, but as an on-field contributor for his team, he was hardly producing.
The last of Beckham's loan deals back to Europe came in 2010. There was talk of another in 2011 as he trained with Tottenham, but instead of joining Harry Redknapp's side and perhaps missing more MLS matches, he returned on time and in better shape than at any other stage in his Galaxy career.
The stage was set for his best season in California as he helped Los Angeles go all the way, lifting the MLS Cup with a 1-0 victory over the Houston Dynamo a year ago.
The final might have been his last Galaxy game as his contract came to an end and suitors lined up, but Beckham delighted MLS by recommitting.
Even that was not all it seemed, however, the announced two-year deal instead being a one-season contract with an option for a second. That option has now been declined as Beckham prepares to depart the US stage.
There is no question that MLS is a much different - and much better - place than when Beckham arrived. Six of the 19 MLS teams have joined the league since Beckham, along with countless fans at home and abroad.
He has been followed across the Atlantic by numerous other world-class talents, including Thierry Henry, Rafael Marquez and Robbie Keane, and his impact will continue when he takes up his contractual option to own a team.
All that helps what amounts to an excellent legacy for Beckham in helping MLS develop, but claiming he was a complete success ignores so much that went before.
By Ian Parkes, PA Sport