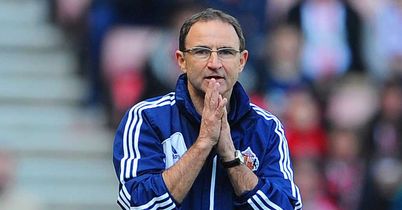 TEAMtalk guest, and Sunderland fan, Michael Graham is calling for Martin O'Neill to be given more time to get things right on Wearside.
As the saying goes, a year can be a very long time in football. Not always, though. Just ask Sunderland fans.
This time last year Martin O'Neill breezed through the doors at the Stadium of Light. He found a team languishing in a relegation scrap and struggling for zest, goals, and confidence. He was supposed to bring improvement and things were supposed to be different, yet a year has passed and the name on the door of the manager's office is just about the sum total of tangible change.
Naturally, it is a situation that has seen the former Celtic boss come in for criticism from some quarters. I accept that much of the criticism is fair. Given his recent record you have to. Condemnation, on the other hand, would seem hugely premature.
If you cast your eye over the 29 names in the first team squad on the club's official website, you will only find six who have been brought to the club by O'Neill. Of those six only two commanded a transfer fee, one of them is on loan, one hasn't made a league start this season, and one hasn't played a single minute of competitive football in a Sunderland shirt.
A lot of that is by choice, of course. What money was available last summer he chose to invest in just two players. He chose quality over quantity and addressed one problem definitively rather than diluting the solution to try and solve multiple problems partially. Long term, the policy has merit. In the short term though, it has meant he is making do with another man's squad and battling against the problems created by his predecessor.
It is important to stress at this point that Steve Bruce was not sacked for a solitary bad run of results at Sunderland. There have been parallels drawn by some with O'Neill's current plight, but there is no fair or even relevant comparison to be made.
Ellis Short had shown Bruce patience in bad runs before, but his inability to lay any discernible foundations at the club was what probably cost him in the end. He used the loan market profusely and was quick to abandon players he had brought to the club or developed such as Darren Bent, Asamoah Gyan, and Jordan Henderson. It is tough to build anything at all when you are unable to prevent others from pillaging your best materials. He assembled a poor squad and did so on his own terms, and for that he paid the price.
O'Neill has essentially been tasked with picking up worst pieces and starting afresh. There are one or two gems like Stephane Sessegnon and Simon Mignolet, but you can't envisage too many of the current squad whetting the appetite of potential suitors.
It is a point very well illustrated by Matthew Kilgallon. The former Leeds man endured a torrid time at Carrow Road last week, defending poorly to allow the decisive second Norwich goal before missing an open goal for his own side later on. Yet Kilgallon - a poor Bruce signing - was only on the pitch in the first place and in a position in which O'Neill was forced to rely on him due to Bruce's penchant for signing injury-prone lumbering over-the-hill defenders such as Wes Brown, John O'Shea, and Titus Bramble - all of whom were all unavailable to start.
That is a situation that is repeated in other areas too. The centre of midfield is bereft of both mobility and imagination, and the somewhat maligned Phil Bardsley is the only senior specialist full-back in the entire squad that the club own outright.
The solution here just isn't going to be found with a new manager. You may get another new boss bounce like the one O'Neill initially enjoyed, but sooner or later the same old problems are going to be simply transferred to the new man and action delayed whilst he makes his own assessment of the squad.
I have seen many an elaborate and drastic solution proffered, but for me there is nothing complicated about what is needed at Sunderland. It just needs time. Time to improve the squad and make it fit for purpose.
After all, at its core football is a very simple business. You find yourselves a good manager and then you get behind him. History is absolutely adamant that the Black Cats have done the first part - the hardest part - now it's time to dig in and get on with the other.