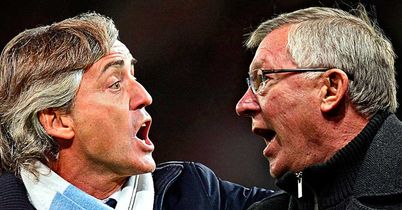 TEAMtalk's Pete Hall explains why his beloved Manchester United can take all three points in Sunday's derby if they go for the jugular at City.
Snow is starting to fall all around us, children playing, having fun...but who cares about that, its derby day!
As a Mancunian, it's the biggest day of the year. Christmas has hardly been mentioned around these parts, and depending on how the game pans out, one side of the city will be celebrating until Santa's sleigh creeps overhead.
Residing in a predominantly blue half of the city, last season's 6-1 demolition at the hands of the enemy rears its ugly head everytime football is mentioned, and when we turn on our television sets to take our mind off the incessant referrals to that day in the local wateringhole, we have Martin Tyler...
The veteran Sky commentator's high-pitched 'Aguerrrrrrrro' cry, which seems to have made it's way back onto our screens in the run-up to Sunday's showdown, has meant we cannot forget how dramatically it all panned out last season.
However, with both Manchester clubs firmly in amongst it again, both will be keen to take home the three points. But at this stage of the season, points aren't as important as they would be in a few months time, and maybe it is time to make a statement, and dispel some of those demons from one of the worst days any Old Trafford regular has had to endure.
Roberto Mancini's side crashed out of the Champions League group stage for the second season in a row, without a win, and eclipsing Blackburn's unwanted record of the lowest group-stage points total accumulated by an English side in Champions League history.
That has to be something to use to our advantage, doesn't it?
What our neighbours have been so noisily pointing out is that they are still unbeaten in the Premier League, with the best goal difference and haven't been defeated at home since December 2010.
However in the build-up to Sunday's clash, Sir Alex Ferguson has spoken of its importance, claiming that a win at The Etihad would be one of United's "best ever results".
You and I both know this is part of Ferguson's mind-games before any match of this magnitude, but there is a huge element of truth in this simple phrase.
Despite their impressive record on paper, City have looked a shadow of the side that so dramatically fought back to claim their first top-flight title since 1968.
With the team averaging of 1.87 per game, bettered only by United, City are hardly struggling for goals, but if we are comparing this side to the Champions of the 2011/12, they are not even close.
Key players have also failed to live up to the high expectations they created for themselves with last season's performances, and with the humiliation they have suffered as a result of their Champions League capitulation, may take some time to recover.
Yaya Toure has forgotten how to bulldoze his way through defences and has being largely ineffective, Sergio Aguero has struggled to re-discover his goalscoring touch and skipper Vincent Kompany has looked vulnerable on occasions, especially against better opposition on the continent.
With no clean sheets, 11 goals conceded and a formation often in disarray, the reigning English champions have looked far from secure in Europe, and with no disrespect to City's domestic opponents, better opposition have exposed their weaknesses all too often.
Constant switches from 4-4-2 to 3-5-2 have confused several of their experienced stars, and when teams played their football and attacked the City rearguard, they have looked susceptible to conceding goals.
Ajax made Roberto Mancini's side look surprisingly ordinary, and passed and moved their way to a comfortable win in Amsterdam, and apart from an outstanding display from Joe Hart, Dortmund could have run riot at The Etihad on matchday one.
I know the Red Devils have hardly been mindblowing, with some of our defending described as "cartoon" by our beloved chieftain, but goals have not been hard to come by for United, who have 37 so far. That is nine more than City, an average of 2.47 league goals per game, and adding to that impressive statistic on Sunday may not be as tough as first thought.
What the Dutch and German title-holders proved is that when you attack at the heart of the Manchester City defence, they don't always look so impenetrable, and with the talent Sir Alex has at his disposal, they are there for the taking.
Nostalgia is often a dangerous thing, but looking back at the results from the magical Treble-winning campaign in 1999, there were numerous high-scoring games, and conceding goals didn't matter, because we would go down the other end and score again.
The sheer madness of that 26 minutes at Reading angered many of the United faithful, as we conceded simple goals, which could have easily been prevented.
Fun though wasn't it? It is that attitude we need to take into Sunday's encounter, which is not pivotal to the title race, and go out all guns blazing early on, and force the champions onto the back-foot, and as Europe's elite have proved, it is a place they do not like to be in.
You can follow Pete on Twitter here.