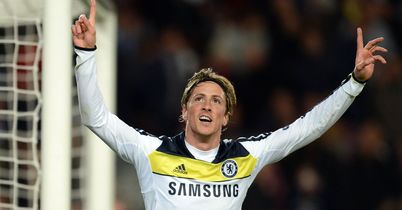 Tevez's tee shot, cranky Kenny, a 'Nev-aculation', mad Mario and ruthless Shreeves are in part one of TEAMtalk's Maverick Moments.
Nev-aculation - by Simon Wilkes
Fernando Torres is seemingly back on track under the tutelage of Rafa Benitez, having scored six goals in his last five games for Chelsea.
But it wasn't that long ago that the £50million striker was spending most of his time warming the bench under Roberto Di Matteo, or doing very little to catch the eye when he got on the pitch.
My Maverick Moment comes from Tuesday, April 24 and we head to the Nou Camp, where 10-man Chelsea were hanging on grimly as Barcelona - leading 2-1 on the night but heading out 2-2 on aggregate - sought a third goal that would send them to the May 19 Champions League final in Munich.
Di Matteo had sent Torres on as a late sub - but due to John Terry's dismissal, the Spaniard was asked to join the defensive effort, lining up at left-back.
In stoppage time, Torres won possession in his own 18-yard box and attempted to run it clear, only to gift the ball to Xavi of all people. For once the Spanish playmaker misplaced a pass, allowing Ashley Cole to pump the ball upfield. For some reason, Torres had continued his run despite losing possession, and all of a sudden found himself bearing down on goal with only Victor Valdes standing between himself and a place in Chelsea folklore.
In a game of high drama, we had the final twist, with Torres keeping his cool to round the Barca keeper and stroke the ball into an empty net. Could Gary Neville - rightly revered following his brilliant, in-depth analysis on Monday Night Football - keep his cool and deliver some iconic commentary? No, he could not, instead making a five-second noise which had no doubt previously been exclusive to Mrs Neville.
After uttering "Ooooooooooooooooooooooooooooooohhhhhhh, unbelievable!" He recovered his composure to claim: "The last 18 months have just been forgotten in two seconds."
Well there's plenty of stamina in this Maverick Moment, and it's one that will be burned in the memories of all football fans for many a year.
Ruthless Shreeves - by Mark Holmes
As a journalist, I take an interest in the different interviewing styles of reporters. Some take a softy, softly approach to getting a good quote out of their interviewee, while others are a little more hard hitting and to the point.
Geoff Shreeves just offends them. Firstly, after Chelsea's Champions League semi-final success in April, Shreeves did his best to make Branislav Ivanovic cry by pointing out he would not make the final, and more recently he was at it again after Rafa Benitez's first game in charge of the Blues.
After the Spaniard said (lied) that he did not hear the booing from the stands, Shreeves was keen to put him right. "Even if you didn't hear it I can tell you virtually the entire Chelsea crowd booed you, and they were singing 'we don't want you here,'" he said.
The interview continues with Shreeves pushing Benitez on the subject - it might have been heartless, but it was also hilarious. Geoff, you're a true maverick.
Take Rat - by James Marshment
Neil Warnock and El-Hadji Diouf are two of the game's most despised characters - the pantomime villains that are obvious targets of abuse for opposing fans.
And the fact that the pair have had a bit of a ding-dong in the past (Warnock famously called Diouf 'lower than a sewer rat' after his taunts at Jamie Mackie when the QPR striker broke his leg) made the pair's link-up at Leeds United in August of this year even more surprising.
I had the chance to question Warnock about a potential deal in May - a matter of hours after news of Leeds' interest in Diouf first appeared in the media. After initially refusing to answer the question, I put it to Warnock again that surely his signing for Leeds "wouldn't go down too well" with Leeds supporters. His response? A wink and a telling smile, that not only suggested that a deal would be done, but that this Maverick Moment of 2012 would, in fact, prove an unlikely success for all parties.
Mario meet scissors, scissors meet Mario - by Rob McCarthy
We couldn't have a Maverick Moments of 2012 without having a little bit of Mr Maverick himself, Mario Balotelli, as this time Mario attempts to wrap a Christmas present with Carlos Tevez for City's advent calendar feature.
As you will see below, Tevez - who initially refused to do it before sulking for a bit and being welcomed back with open arms - does a decent job but Balotelli acts like he has never picked up a pair of scissors in his life - unless he has used them as a prop for some fireworks in his bathroom.
Whilst I'll admit to personally struggling to wrap anything that isn't square, Mario takes it to a whole new level and one wonders if the left brain cell was really struggling to interact with the right one on this particular day.
Cranky Kenny - by Jon Holmes
One man who gave us several memorable moments last season was Kenny Dalglish, whose crankiness livened up many a post-match interview.
Whilst many players and managers continue to trot out banal quotes to appease journalists, Dalglish's distrust and loathing of the media tended to simmer beneath the surface whenever a microphone was thrust under his nose. But when he could take no more, the results were always compulsive viewing.
Even after a win at Blackburn in April, he walked off mid-interview with Andy Burton before being ushered back to bark grumpily 'What is it?!' The 3-2 defeat at QPR prompted a surly "I think I've answered all your questions" but it was King Kenny's snap-back at Geoff Shreeves after the Suarez-Evra handshake rumpus that really stunned viewers.
"I think you're very severe and you're bang out of order!" said Dalglish and when Shreeves halted his exit, added: "I can leave any time I want!"
Dalglish then suggested that Sky Sports News were somehow to blame for the bad feeling between Liverpool and Manchester United, before departing to leave Shreeves a little startled and TV viewers pondering whether the pressure was simply too much - something FSG would also have considered when they sacked him in May.
Swinging Tevez - by Sam Nightingale
Carlos Tevez hit a hat-trick for Manchester City as they hammered Norwich 6-1 last season, but it was the striker's goal celebration on completing his treble which provided real comedy value.
Tevez celebrated by running to the corner and swinging an imaginary golf club!
The hitman had often been seen on the golf course back in his native Argentina (something which came in handy when he caddied at July's Open for Andres Romero, who shot a final-round 82) after going AWOL following a dispute with boss Roberto Mancini.
Tevez had refused to warm up in a Champions League clash at Bayern Munich in September 2011.
He eventually returned to Manchester in February 2012 and proved to be one of the catalysts for City's Premier League title success.
And his hat-trick and goal celebration at Carrow Road in April certainly helped to redeem the Argentinian in the eyes of many City fans.