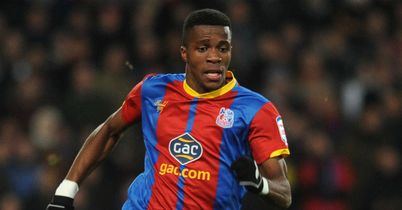 TEAMtalk guest Rich Kitto isn't sure if young talented Brits provide real value for money as the January transfer window kicks into overdrive.
With all the talk of a substantial bid from either Manchester United or Spurs for Wilfried Zaha, and Theo Walcott possibly signing a contract extension worth £25million, the over-inflated cost for securing young talented Brits seems fit to burst. But is paying such astronomical figures for young British players, who still have so much to prove, a worthwhile investment or a harsh necessity in the current climate?
Over the last 18 months or so, Liverpool have spent roughly £82m on four young British players - Andy Carroll, Daniel Sturridge, Joe Allen and Jordan Henderson - to build an energetic squad for the near future.
And whilst their policy is commendable by what they're trying to achieve, and obviously considered in accordance with the Premier League, Manchester City unveiled their grand plans to build a brand new state-of-the-art academy, with the objective of becoming the new Barcelona, for an initial expected cost of around only £18m more.
Cecil Rhodes, an English-born businessman and politician from the 1800s once said that 'to be born English is to win first prize in the lottery of life'. Well he's certainly not far off the mark when considering the life changing amounts of money that fresh faced British players are receiving nowadays for showing signs of raw talent.
Little did Cecil know that over 200 years on, his quote would ring true as clubs continue to pay huge sums of money, and way over the odds, to bring in unproven players from what is an extremely shallow talent pool.
Though it's not as if this is a brand new phenomenon, as increasingly over the last few years the major teams in the Premier League have incorporated strategies that involve securing the best of British players for whatever price necessary. But paying towards £15m for Zaha - a player who has only scored five goals in the Championship this season and has around seven minutes of international football to his name - seems absolutely absurd.
Without doubt, Zaha has talent, and whilst I can manipulate statistics however I like to prove a point, having seen him play in the flesh its clear to see that the tricky, pacey inside forward could be an extremely gifted footballer in years to come. Whilst 20 years old will still seem very young, and there's no doubt he is years away from being at his best, could it almost be considered a little too old when comparing him to the very cream of the crop in recent years?
Though perhaps its unfair of me to compare him to the best from around the world, if a team is willing to spend such a huge amount on the man originally from the Ivory Coast, it's fair to say that a huge amount will be expected in return.
Alex Oxlade-Chamberlain made his professional debut for Southampton at the age of 16 years, 199 days before making his Arsenal bow at 18. The Ox became the Saints second youngest ever player when he stepped out onto the hallowed turf at St Mary's behind a certain Theo Walcott, who featured at 16 years and 148 days and appeared for the Gunners at 17 in the PL.
Similarly Gareth Bale played for Spurs at 18, Wilshere appeared for Arsenal at 16, and we all remember Wayne Rooney turning out as a freckly 17-year-old for Everton before his big-money move to Manchester.
What this seems to indicate, other than the fact that Arsenal is a superb place for youngsters to develop, is that once teams caught drift of their talent then they were brought straight in and played. Having now made over 100 league appearances for Palace, far more than any of the aforementioned made for their first club, teams obviously hadn't quite seen that raw spark from Zaha, and now as he's a little further on in his career he may be a bit more difficult to mould.
Time will certainly tell, and I'm not for a minute suggesting that all players have the same development patterns, though as much is to be expected of Zaha wherever he ends up, the pressure is certain to mount on Walcott's slight shoulders.
Having played a risky game of dare with a professor who is known to be a man of the strictest principles, it seems the 23-year-old has made the right moves off the field to get what he wants on it. The press seem united in the suggestion that he will shortly sign an extension worth around £25m, with the reassurance that he will play a more active role in his favoured position as a central striker.
Paying the young Englishman - who many Arsenal fans and those alike feel has not lived up to his budget - around £90k a week appears to show a weakening of Arsene Wenger, and if expectations weren't already high for the man who travelled to the 2006 World Cup then they certainly will be now. But regardless of nationality, is a goal scoring return of around one in six in the league since he began at Arsenal enough justification for his wage and new position?
Ultimately, potential will only last a certain amount of time before you look at a player and question his commitment and ability.
Sturridge is the obvious and shining example, and whilst it may be true that he'd be twice as good were he half as arrogant, the fact is Brendan Rodgers has signed him for £12m because 'under the right management' he has all the attributes. Again, £12m is too much for a player based largely on potential, but if any team epitomises handing over a blank cheque to get British players then it's the Reds.
The likely re-signing of Tom Ince, whilst considered laughable in many quarters after he walked out of Merseyside only a year and a half ago, seems a bargain at £6m in comparison to recent deals.
Though whilst all this goes on, as clubs fight, squabble and burn money to get the sought after up-and-comers, Chelsea seem likely to allow two world class England internationals in Frank Lampard and Ashley Cole to walk out of the door for nothing. Go figure. Perhaps it's now a case of out with the old, and in with the 'who?'.