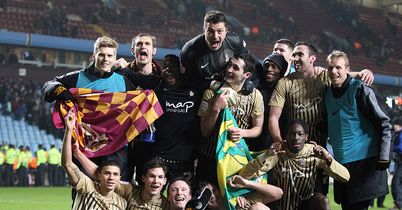 TEAMtalk guest Frank Malley says football will have a League Cup final to cherish when Swansea and Bradford meet at Wembley on February 24.
True, it is not perhaps the final the sponsors, Capital One, would have preferred. It is not one which will sell too many additional credit cards.
It will not see the fanatical football hordes in the expanding Asian markets queuing to get into the sports bars in Singapore and Bangkok. Let's face it, it probably will not sell any extra pints in the pubs of Manchester and Liverpool.
Yet it is the message it sends to football which matters. If Bradford from League Two can make it to a major Wembley final, the first team from the fourth tier of English football to do so in more than 50 years, then there is hope for everyone.
There is hope for the fans of Barnet and Aldershot and Bristol Rovers, even if the latter currently prop up the entire Football League. Who knows? With hard work and ambition and good fortune next season it could be their turn to ride the intoxicating wave which has seen Bradford beat Wigan, Arsenal and Aston Villa to reach their Wembley final.
The point is that it is possible for the little clubs to taste glory, despite the television squillions which routinely make the Premier League richer and the rest poorer and skew football's financial landscape.
It is difficult to overestimate the importance of that message in a football nation whose history is liberally sprinkled with the cup giant-killing feats of underdogs such as Hereford and Sutton and Kingstonian and, of course, Wimbledon, who beat Liverpool in the 1988 FA Cup final just six seasons after being in the old fourth division.
Some said that would never be done again and maybe it will not, but some would counter that Swansea's feat is even greater. In 2003 Swansea looked like going the way of Monty Python's Norwegian Blue. They had all but expired as a going football concern, beset by financial turmoil and internal strife. They narrowly avoided relegation to the Football Conference on the last day of the season. Yet, less than 10 years later, they stand as a shining beacon for how a club should be run and how football should be played.
Not even Chelsea midfielder Eden Hazard, who was sent off after appearing to plant his boot into the ribs of a ball boy at the Liberty Stadium, could wreck the uplifting mood as Swansea drew 0-0 with Chelsea to record the 2-0 aggregate victory which makes them big favourites to lift their first major trophy, unless you count the 10 times they have won the Welsh Cup, which I don't.
If Swansea's preparation for the Premier League was fashioned by the clever vision of Roberto Martinez, who demanded his teams play passing, cultured football, then their top-flight stay so far has been a revelation.
Not only did they beat Arsenal, Liverpool and champions Manchester City during their debut Premier League season they also made a profit of £14.6million.
Rich ambition. Sound principles. Good housekeeping. They are the Swansea foundations. No Wimbledon long balls. No 'Crazy Gang' them-against-us nonsense. No sense at the Liberty Stadium that success can be achieved only by employing the dark arts and the ugly side of the game.
Brendan Rodgers demanded the team play beautiful football last season before he departed to manage Liverpool. Current boss Michael Laudrup, a man of rich technique and finesse in his own playing days, has embraced the Swansea ethos and his acquisition of 16-goals-in-24-games forward Michu surely ranks as the signing of the season.
Yes, the cynics maintain the fact that Swansea and Bradford will contest the Capital One Cup final proves for some that the big clubs are not interested in the minor trophies, reserving all their energies for the Premier League and the Champions League.
But here's a thing. Arsene Wenger would give anything to have the chance of winning a first trophy with Arsenal since 2005. Chelsea manager Rafael Benitez played his strongest side in his failed bid to get to Wembley. Sir Alex Ferguson is on record as saying "it is a pot worth winning". On February 24 the Capital One Cup final has a match drenched in romance and old-fashioned football values. A match to savour.
A match which reminds us why football is the most popular and unpredictable sport on the planet.
By Frank Malley, PA Sport