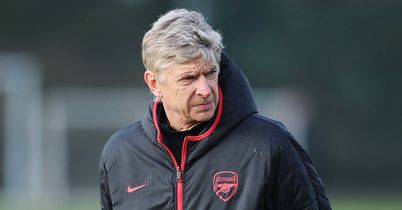 Rich Kitto believes Arsenal supporters should be happy with Arsene Wenger - as the team is still over-achieving under the Frenchman.
"What is important is not what people say, it is what happens on the pitch" - Arsene Wenger after his team's embarrassing defeat at the Emirates to Blackburn in the FA Cup.
Unfortunately for the Arsenal manager, the only people silenced after Arsenal's 3-1 first leg loss against Bayern Munich were in the home crowd, as they watched their team outclassed from start to finish in their Champions League fixture on Tuesday.
Of course, this has brought about the typical calls for 'change' from supporters - but honestly, and with consideration, is it fair to retain such expectations of the club considering their lack of success in recent years?
Do Arsenal genuinely still stand amongst the giants of the European game, or should fans enjoy Champions League football while they still have it?
They say football works in cycles, and whilst Arsenal supporters are growing increasingly tired of waiting for that next taste of success, Wenger must be completely fed up of answering his critics on what feels like a monthly basis. After all, we've been here so many times before.
In November, Arsenal went three without a win, including a loss to Manchester United, before a 5-2 victory against bitter rivals Spurs. They then won one in six in all competitions with the loss to Bradford being the most notable, before three straight wins in December containing a 7-3 drubbing of Newcastle.
More recently in January they won one in four including defeat to Manchester City and Chelsea before a run of five without defeat. That run was ended by Blackburn, and was then followed by the Bayern result, so the sequence begins again.
March looks set to be an extremely tricky month for the Gunners. League outings against Spurs (away), Everton (home) and Swansea (away) are inter-spliced by the return leg in Munich, and at this point the fixtures appear daunting for a team low on confidence, depth and leadership.
Though as above, and as history will tell you, it wouldn't be all too surprising if they found themselves in a good position in the league heading into April. After all, many had begun sharpening the knives this time last season as they trailed Spurs by 10 points only to eventually surpass them at campaign close.
Ultimately it is history that drives the uproar and calls for change, and which seems to provide the argument that Arsenal should be winning trophies and challenging for the big honours. But its now been eight years since they last tasted glory by winning the FA Cup, so what evidence is there in recent years to suggest that now, or the near future, will be any different?
Liverpool supporters are regularly mocked and criticised for their 'next year is our year' mentality, and that just because they once dominated the land that this means that will surely do it again soon. In fairness, I think the fans have realised that there is no quick fix at Anfield, and that to take a step forward it will take more than a couple of steps back.
Their failure to qualify for the Champions League was the moment Liverpool's task of mounting a serious challenge in the league faded as the lack of funds and ability to attract the top talent wasn't enough. They're currently a long way off where they want to be as a result.
This is why in many ways the defeat to Bayern could be considered a positive for Arsenal and their followers. Even if the Gunners do make the 'impossible possible' as Wenger claimed, the team is short of the necessary quality to win the Champions League, and therefore all focus can go on qualifying for the competition again next season. It is entirely plausible that Arsenal will achieve this considering the current small four-point gap between themselves and their north London rivals.
As was once said, we can only chart our future clearly and wisely only once when we know the path to our present. Whilst it is acceptable for Arsenal supporters to be annoyed - and rightfully so considering the extortionate prices they are made to pay for tickets - they now have to be realistic in these times of transition.
The truth is that fans should no longer benchmark success against trophies, but rather achieving above their means, and ultimately this means qualification for the Champions League again next season above domestic teams that spend more and have stronger squads.
If - and it remains a big if - Wenger fails to secure that top four-finish for the first time of his tenure then a decision is to be made, but if anyone has done enough to earn a second chance then surely it is the Frenchman.
Arsene Wenger is a great manager that has not only brought some wonderful joy for Arsenal fans, but changed the landscape of English football. In this current climate of chopping, changing and congestive football, the mentality of Arsenal at all levels has been a constant breath of fresh air.
That deserves recognition, and Wenger deserves support.