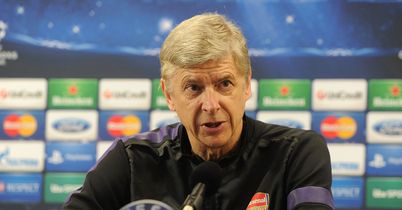 Arsenal FanZoner JC believes Arsene Wenger is one of the few managers that could have kept the club competitive over the last eight seasons.
"You'll miss me when I'm gone". Those were Arsene Wenger's words at the press conference prior to our Champions League clash with Bayern Munich.
With tensions already high after the FA Cup defeat to Blackburn, the media revelled in what they portrayed as a 'meltdown' of the once-poised manager. Truth be told, it was simply a man being grumpy for pretty much the first time in 17 years - too grumpy to put up with their nonsense.
As criticisms of 'le professeur' reach a crescendo, the impressiveness of Bayern Munich should not be overlooked. In fact, whichever side of the Wenger debate you stand on, the loss to the Germans should have done little to alter your opinion.
The defeat was not due to Arsene having 'lost the plot', Arsenal's lack of psychological fortitude, or any other exhausted story arc. It was merely one of the best two teams in Europe showing their class against an opposition that sits a little way down the pecking order.
But just as the more logical among us recognise that we were simply beaten by a better team, we must also recognise that the debate over Wenger's future at the club is not going to die-down anytime soon.
Two cup exits, save for a miracle in Munich, in the space of four days has condemned us to an eighth straight season without a trophy. Calls for a change in manager are stronger than they have ever been during the Frenchman's tenure - a situation that would have been unimaginable eight years ago.
Fans of a club such as Arsenal are entitled to crave glory, but we should not let our longing for silver cups blind us in our decision making.
It is undoubtable that few have hits the heights Wenger once reached; he is not Arsenal's most successful manager without reason.
Gooners will forever have the memories of the club's most glorious period, with the zenith of 2004, to cherish. No matter what the future holds, for man or club, his first eight years at the helm will be engraved in Arsenal folklore.
It is testament to the man that, on the list of the club's all-time 50 greatest moments on the official website, his appointment in 1996 ranks as number four. The rest of the list is littered with Wenger-era achievements.
But the first eight years do not diminish the last eight years. Those in favour of Arsenal parting with their manager claim him to be a man past his time, a shadow of his former self, a faded idealist. They look at the last eight years and see only underachievement, and a manager unable to keep a once great team truly competitive.
I, however, do not see it that way. Yes the last eight have been painful and disappointing, but I would argue that we have still been reasonably competitive and that the term 'underachievement' should not be thrown around so lightly.
Two League Cup finals ('07 and '11), an FA Cup semi-final ('09), and a Champions League final and semi-final ('06 and '09, respectively), along with third and fourth places finishes in the Premier League, hardly point to a club that has been unable to compete.
In fact, financial frippery would show that Wenger has overachieved in terms of points and repeated Champions League qualification. It is well known that the move to the Emirates Stadium meant a required tightening of the purse strings, and I honestly believe there to only be a handful of managers who would have been able to keep us at the top under such conditions - as Wenger has done.
But, as new commercial details are brought in, and the purse strings loosen, the question now is whether Arsene can prove himself a man capable to evolve with the times. It has often come out this season that there is in fact a fairly sizeable sum of money available, but it is the manager whom is choosing not to spend it.
By no means do I expect, nor do I really want us to, start paying £30-40million for players. But it is abundantly clear that, more often than not, the going rate for proven players of the required quality is somewhere in the £15-28million bracket. No more Gervinho's, Squillaci's, or Santos' please.
What I want is evolution, rather than revolution.
The man who once revolutionised, not only Arsenal but, the English game, must now evolve to the demands of the current footballing climate. Someone in the role once occupied by David Dein would help such a cause.
However, to those whom pin all the blame for our club's struggles on the manager and demand his sacking, I have only one thing to say: be careful what you wish for.
For one, replacing a manager is by no means a guarantee for success. Take those pesky Never-Walk-Aloners for example. In our eight barren years, the now 'other club' on Merseyside have had four different managers.
They have had some form of success, winning the FA, League and Super Cup, but have failed to qualify for the Champions League in each of the last three seasons.
Before his appointment at Chelsea, and maybe even still, Liverpool fans would have given an arm to have Rafa Benitez back. Let us not make the same mistake.
Many often laugh at Wenger's claim that Champions League qualification is 'like a trophy', but Liverpool should be a reminder to us that it shouldn't be taken for granted.
In a way, we have been spoilt by our consistent presence in the knockout rounds. Many forget just what an achievement it truly is.
Should the board cave to pressure and part ways with Mr Wenger, our loss will soon be someone else's gain. 'Le professeur' will not be short of suitors - he never has been during his time with us.
Real Madrid, Paris Saint-Germain, AC Milan, Manchester City, Juventus, and the French National Team, to name but a few, have all been possible destinations for Wenger over the years.
Yet, despite what is sometimes no less than a sheer lack of appreciation from certain fans, come Saturday afternoon, you can bet your bottom dollar that he will be there, ridiculous coat and all, to show everyone that class really is permanent.
Things need to change at the club, I will not argue otherwise, but Arsene Wenger's position on the touchline is not one of them.