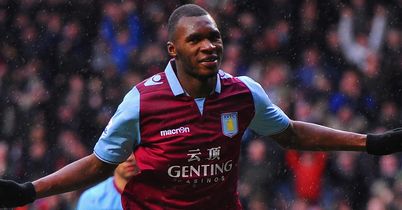 Aston Villa FanZoner Pete Cameron hopes the club are already making plans to replace sought-after striker Christian Benteke.
It was never going to be long before the rumours started. In a season of darkness, they want to snatch away one of the few chinks of light. That light of course comes in the shape of a 6ft 3in Belgian bully.
When Villa first signed Christian Benteke my housemate asked me how much we'd spent on him. When I replied £7million, he laughed dismissively and said "wow, you spent that much? I thought he was some sort of bargain." Well, now that outlay does loo a hell of a bargain.
And the irony of said housemate being a Liverpool fan isn't lost on me, given that £7million would just about buy one of Andy Carroll's flailing limbs.
After a goal-scoring debut from the bench, Benteke has gone on to hit the back of the net 15 times so far this season.
To put that into perspective, at the height of their form, the most prolific seasons Gabby Agbonlahor and John Carew enjoyed in claret and blue ended with 16 goals each. While Darren Bent's biggest haul from a full season at Villa Park is just 13.
To have scored so many, so soon, in such a struggling team is quite simply outstanding.
His impact on the attack can't be overstated, especially when you factor in the eight goals he has laid on for team-mates. So it was inevitable that clubs would be linked with signing a 22-year-old who has been such an obvious hit in his first season in England.
Arsenal and Spurs are the latest teams to be talked about in connection with him and judging by his agent's comments this week he'll almost certainly be flicking through his A-Z at the moment to double check that these clubs actually are based in London.
The past couple of years has made most of us Villa fans a lot more self-aware. There's a reluctant acceptance of the reality of our position and the fact that we have a player in our ranks who is considerably outperforming the current standard of the team.
In the past I'd always expected us to hold on to our best players, and when Gareth Barry, James Milner, Ashley Young and Stewart Downing left I was disappointed and bitter. But now I'm already prepared for the fact that if an acceptable bid comes in Benteke will go.
I'd be delighted if we kept him, but to be honest it might just be that a move that suits all parties. Unless you're Real Madrid or Barcelona, every player has their price. Even Cristiano Ronaldo had his price. For a club in our position, with our limited finances and resources, a big cash injection could be used to replenish and strengthen the squad as a whole.
It's a model David Moyes has been working to with Everton for years and the money from the sales of Wayne Rooney, Joleon Lescott, Jack Rodwell and Mikel Arteta was reinvested into the squad. Even Arsene Wenger has been operating this way in recent years. Unless you're one of the world's best clubs, your players will leave, and you need to find the best way of making that into a positive.
If Paul Lambert has any sense he'll be preparing himself for the eventuality that the striker heads for the exit door in the summer and will have discussed what would be an acceptable offer with the owner, as well as eyeing potential targets to replace him and strengthen other areas of the squad.
If the austerity at the club we've seen and heard about is to continue, this is going to be the way we have to keep doing things moving forward. Buy low, sell high and rebuild wisely.
It's a completely unromantic way to look at football in what boils down to effectively a business model, but it might be a best chance of financial and footballing stability as things stand.
There is of course a chance he may still be a Villa player comes September 2013. He is not the finished article yet and is still fairly rough around the edges, highlighted by the fact the Belgian has only completed 65 per cent of his passes in the league this season - lower than Darren Bent, a player not famed for his link up play.
Off the top of my head I can remember at least three goals he's been directly responsible for us conceding due to his failure to pick up an opposing player from a dead ball situation.
But he is fast, strong, good in the air and surprisingly deft at times. To go with his eight assists, he has played more key passes in the league than any other player in the team (34), averaging 1.5 per game.
He has been predictably popular with the fans given the level of his performances, and the song adopted for the big Belgian is apt considering that when he's in full flow a seven nation army would do well to keep him quiet.
The reality of the situation now though, is that an army of Villa fans would have little chance of holding him back if he chooses to move on in the summer and a decent bid is received.
The hope is that if this situation becomes a reality, common sense is used in how we moved forward from there. Any money needs to be reinvested in the squad (I'm looking at you, Mr Lerner) and reinvested wisely (I'm looking at you, Mr Lambert).
We'll have to wait and see what happens but it's unsurprising to see him linked with other teams at this stage of the season and if he does move on, then whichever team he joins next will have what Harry Redknapp would describe as a "top, top player" on their hands.
Just don't expect him to defend set pieces.
You can find Pete on Twitter @Cameronesi.