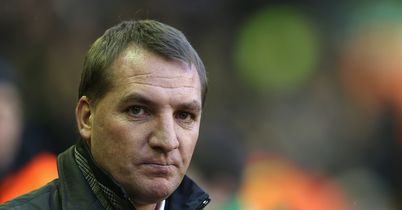 Liverpool FanZoner Richard Garnett does not blame Brendan Rodgers for the Reds' Europa League exit but says he must improve to keep his job.
Brendan Rodgers called for an Anfield night of old to revive hopes of an unlikely progression in the Europa League.
His prayer was answered, but thanks to a momentary lapse of concentration and a poor first leg result, it was not enough to prevent what is early elimination from the competition and the curtain call for Liverpool's silverware quest this season.
In what has now turned out to be Jamie Carragher's 150th and final European appearance for the club, his error under pressure from the strapping Hulk, gave Zenit a vital away goal and Liverpool a mountain to climb.
Typically, Liverpool rallied, with the irrepressible Luis Suarez tormentor-in-chief.
That they replied with three goals of their own was satisfying but would not come as a surprise to regular patrons of Anfield's European theatre. It is simply the expectation on such occasions.
With Suarez's second and utterly sublime free kick goal giving the Reds half an hour to seek out the elusive fourth goal that would see them through, Rodgers will have known that his decision to make two changes in the immediate aftermath would be subject to scrutiny if his team failed to find a crucial winner.
Sadly, it was a move that did not pay dividends, but Liverpool's failure to progress past Zenit was not down to ill-timed substitutions and certainly not because of a lack of effort.
Quite simply, this was a two-legged fixture in which Liverpool's inability to return from Russia with as much as a goal to show for their endeavour cost them dearly.
The end result is plenty of praise for Rodger's players but little else.
Sceptics will draw comparisons with the record of Kenny Dalglish from last year and, statistically at least, will declare that Liverpool are moving backwards under the former Swansea man's stewardship.
With hopes of any silverware extinct before the end of February, there is little doubt that any honeymoon period that may have been afforded to Rodgers has now well and truly expired.
That said, there is still little appetite to remove him as fans come to terms with the lowering of expectations and what is realistically achievable in Liverpool's current mode of transition.
Equally as important as the fans backing however, is that of his employers and what level of resources they are prepared to give him in his pursuit of improvement.
Whereas I would be happy for Rodgers to be given another season to implement his philosophy and continue the good work he has started by imposing an attractive style of play, a club legend with a better record was given the boot unceremoniously in the summer.
He can certainly ill-afford to rest on his laurels and between now and the end of the season, must seek to improve on last year's Premier League finishing position to justify the faith instilled in him.
Rodgers is still learning on the job, but he may need to learn a bit quicker if he wants to keep the wolf (or other managers with significantly more top-level experience), from his door.
By Rich Garnett, FanZone's Liverpool blogger. Follow him on Twitter at @garnster.