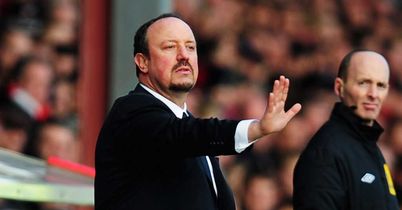 TEAMtalk guest Jamie Arkell believes the problems at Chelsea lie not with Rafa Benitez but with Roman Abramovich and the men that run the club.
Chelsea boss Rafa Benitez celebrated his three-month anniversary at the helm of the west London club with the usual chorus of boos, shouts of 'you don't know what you're doing' and yet more questions about Fernando Torres' effectiveness.
A dour and unconvincing 1-1 draw at home to Sparta Prague in the Europa League on Thursday night will do little to lift the gloom and feeling of inevitability around Benitez's long-term future, despite signalling progression to the last 32 and a meeting with Steaua Bucharest. But after 92 days in the Stamford Bridge hot-seat, maybe this is the right time to assess not just Benitez's record but the men who put him there - the Chelsea board and technical staff.
Technical Director Michael Emenalo, Chief Executive Ron Gourlay and Chairman Bruce Buck are all said to have the ear of Roman Abramovich. All three could be accused of poorly handling several high-profile, damaging scandals involving the club and its staff in recent times, yet none have ever been held to account - certainly not publicly anyway
Whilst there are differing views on Benitez's ability to manage a club with such a volatile fan-base and playing staff, many would argue he was doomed from the start - is it really all his fault?
The decision to dispose of club legend Roberto Di Matteo just months after lifting Europe's biggest prize was always going to lead to widespread condemnation from Chelsea supporters.
But for Abramovich and his team to appoint in his place a man who was almost universally hated by the Blues fans was naive to say the least. Or maybe this is indicative of how Roman has conducted his whole reign - with a complete bloody-mindedness and refusal to do anything except what he thinks is right.
Which brings us to Michael Emenalo. The Nigerian former chief scout was promoted to his current role in July 2011.
Since then it could be said he's done as much harm as good. Certainly he should be credited with helping transform the team's playing style and lowering the average age with the acquisitions of the likes of Oscar, Juan Mata, Thibaut Courtois and Kevin de Bruyne.
Yet decisions to allow the likes of Raul Meireles and Michael Essien to leave, despite an insistence at the club to play with two holding midfield pivots in a 4-2-3-1 formation, has left Benitez painfully short in this area. A long-term injury to Oriol Romeu, and Jon Obi Mikel away with Nigeria at the African Cup of Nations has simply compounded the Spaniard's lack of options and defensive protection in midfield.
Ron Gourlay and Bruce Buck are very much the public face of Abramovich at Chelsea. Their handling of the Anton Ferdinand-John Terry saga, as well as the Ashley Cole 'shooting incident', seems to represent an inability to sensitively handle public and media hostility. And perhaps more importantly, a complete refusal to admit the club's (and its players) wrongs and put things right with clear and swift action.
Whether this is their pre-determined approach, or simply the duo carrying out the Russian Oligarch's instructions, one PR disaster after another has done little to endear them to the Stamford Bridge hardcore.
Their removal of Di Matteo in such ruthless circumstances and subsequent statement that Benitez was being brought in 'to keep the club moving in the right direction' really only served to set the former Liverpool boss up for a big fall and further highlighted the club hierarchy's inability to understand both fan-feeling and player mindset - the senior players respected and wanted to play for Di Matteo; why would they give their all for an interim coach, undermined from day one?
Finally, for perhaps the first time in his decade in charge, Mr Abramovich himself has faced criticism from the supporters who have, to date, idolised him.
The brutal sacking of Di Matteo was seen as one step too far for many Chelsea fans, who, despite the delivery of silverware and beating of Europe's finest, crave the stability and loyalty shown to managers at some of their fiercest rivals.
Rumours abound that Abramovich has instructed Benitez to get the best out of the misfiring Torres at all costs, in the same way he did during Andriy Shevchenko's ill-fated stay, will only serve to reinforce the view that the owner's interference in team affairs is preventing Chelsea from becoming the all-conquering juggernaut of English football.
On face value it's difficult to argue that Abramovich's methods have been hugely effective - Chelsea have accrued the largest trophy haul of any English club since 2003 - and maybe things have changed. Maybe there is no room for sentiment and loyalty in football anymore.
Whilst it would certainly be wrong to ignore Benitez's record and baffling tactical decisions since he took over (the poorest record of any Chelsea manager since Abramovich took over for that matter), in reality, is he really anything more than a puppet for the people running the club?
An interim manager with no say on transfer and loan policy, no respect from the fans and possibly the players, and with a mandate of getting 25 goals a season from a £50million misfit, Benitez was always on a hiding to nothing.
In the medium to longer-term, it is clear to me that Chelsea's problems run much, much deeper than simply the man from Madrid.