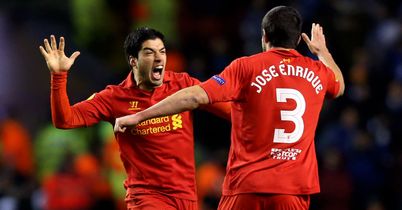 Liverpool FanZoner Richard Garnett is looking forward to the run-in with a renewed sense of optimism due to the Reds' recent fine form.
Out of the cups and with Champions League qualification seemingly a pipe dream, Liverpool's season looked like it had finished in February.
A campaign that has been dogged with breathtaking inconsistency appeared to be heading towards an almost pointless closing quarter, with little more than the pride of finishing above Everton left to play for.
It was feared by some that the sight of an inconsolable Luis Suarez rueing Europa League elimination would be the last act of concerted passion at Anfield this season, as gloom spread across the Kop.
Spare yourself a moment, though, to cast your eye over Liverpool's recent league form and you will notice an achievement that has eluded the Reds all season.
Liverpool have won three league games in succession.
In beating Spurs at Anfield, in Sunday's late afternoon nail-biter, the Reds have also recorded another achievement. They have now beaten a team above them in the league.
Throw into the mix that they have also moved ahead of Everton and that a win at Southampton on Saturday could see them move up to fifth place (should Arsenal fail to beat Swansea) and the picture starts to look a great deal more positive.
Goodness knows what an earlier run of consistency might have resulted in.
The January acquisitions of Daniel Sturridge and Philippe Coutinho have made an instant improvement to Brendan Rodgers' side, adding quality and more strength in depth where previously there was none.
It has also allowed Rodgers to remove the young duo of Raheem Sterling and Suso from first team action, just as their admirable early season form had started to fade.
Consequently, this has lessened the burden on Suarez, but rather than allowing him to take the occasional step out of the limelight, he has positively thrived off his new attacking allies.
As a result, the Uruguayan is performing to a level that can no longer be brushed over by his many critics in the media.
No player has given more for the cause than El Pistolero. His performances are box office. His desire to win is inspirational.
Although he will end the season pot-less and has presided over a campaign of dogged inconsistency, credit must go to Rodgers for the apparent shrewdness of his January transfer dealings and also his success in forcing up the performance levels of Stuart Downing.
After facing months of fierce criticism, centred as much around his price tag as his performances (or lack of), it is ironic that Downing now finds himself in a position where he could actually save Liverpool money by rendering the anticipated summer search for his replacement obsolete.
Instead, focus could shift to the more troublesome position of centre-back, which has proven to be Liverpool's Achilles heel this season.
The correctly-timed retirement of Jamie Carragher presents Rodgers with a void of genuine leadership to fill and will surely represent one of the most important signings that he will make in his Anfield career.
Liverpool must also take a serious look at their midfield axis and strive to find the right balance which, despite recent improved performances, is still essentially weaker than years gone by.
One thing we have all established in the last week, though, is that Liverpool's continued absence from the Champions League is having a more severe effect on the club than the ability to attract the best players.
Recently declared losses demonstrate that even prolonged involvement in the Europa League is vital in ever-demanding attempts to keep pace with the clubs ahead of them.
With that in mind, a continued effort from Rodgers' players to see how high they can finish is the minimum expectation.
A kind-looking run-in and three league wins on the bounce suggest that a positive finale might just be in reach.
By Rich Garnett, FanZone's Liverpool blogger. Follow him on Twitter at @garnster.