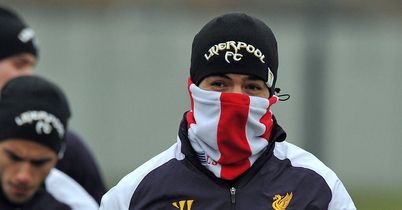 TEAMtalk guest and Liverpool fan Matt Stead ponders the possibility of selling Luis Suarez this summer, when he would command a huge fee.
Liverpool have had a funny old week, haven't they?
The backlash of Luis Suarez's bite on Chelsea's Branislav Ivanovic in the 2-2 draw two Sundays ago reverberated around the club and the footballing world for days. Liverpool fans leapt to the defence of their Uruguayan talisman, while rival fans called for the controversial figure to be removed from the Premier League, if not the game completely.
Suarez received a much-chastised 10-match ban from the FA, meaning Liverpool are without their 30-goal striker until October. Speculation was even made about the diminutive star's mental health, with counselling proffered as an option.
A tumultuous few days culminated in a 6-0 dismantling of a woeful Newcastle side on Saturday. Without the 'one man' in the 'one-man team', Liverpool looked excellent and oozed confidence. Another South American, Philippe Coutinho, played a key role in the demolition, with appearances from Daniel Sturridge and Jordan Henderson among others.
The win was never in doubt and was certainly easy on the eye for spectators as Brendan Rodgers' all-encompassing flowing football finally took centre stage, but the comfort and ease of the victory begged the question: are Liverpool better off without Suarez not only off the pitch, but on it too?
From first glance it does seem a bizarre question. Suarez has notched up 30 goals in 44 appearances in all competitions this season in a side that have stuttered at times to seventh place. His silky footwork and penchant for the spectacular earned him second place in the PFA Player of the Year award behind Tottenham's Gareth Bale on Sunday.
We know what the man is capable of on a football pitch. Indeed, perhaps too much for his, or Ivanovic's arm, own good at times.
However, Saturday showed everyone what Liverpool themselves are capable of when their £22million star isn't stealing the limelight for either the right or wrong reasons.
Coutinho's mesmerising display was capped with an assist and some outstanding touches and intricate passes. Henderson continued his turnaround in a Reds shirt with two goals and one assist. Sturridge proved his worth in leading the Liverpool line with two goals himself.
Liverpool were undeniably smooth on the ball and there seemed to be an understanding between their attacking players, marshalled by the brilliant Brazilian Coutinho.
While the scoreline might have been a shock, the result certainly wasn't however.
For example, in the 44 games Suarez has played for Liverpool this season, the club have won only 16 for a win percentage of 37%. Contrast this with their win percentage in the seven games without Suarez in the side, where they have amassed a win percentage of 85%. It's a stark difference to say the least.
A quick look at this alternative league table without every club's Premier League top scorer displays a similar trend. With every club missing their top scorer, including Liverpool and Suarez, the Merseyside giants remain in seventh place, just nine points worse off without Suarez's 23-goal haul.
You can even extrapolate that on to the current Premier League table. Taking nine points off Liverpool puts them only one place lower, swapping positions with West Brom in eighth.
It's understandable that, when Suarez is playing, Liverpool tend to utilise him as an arbiter through which their attacking football comes alive. When he's on form he's unplayable after all. When he's not on form, however, Liverpool look flat and devoid of imagination. Take the focal point of Suarez out and Liverpool play more as a team, allowing players to shine much as Coutinho, Sturridge and Henderson did on Saturday.
So, for all the furore surrounding Suarez, is it really worth it for Liverpool to keep him even on a footballing basis?
Juventus were courting the striker in the summer, while Bayern Munich have also been touted as potential suitors. What's for certain is that Suarez would command a huge fee in the summer window.
Considering Liverpool are in a position to bargain having tied the player down to a long-term contract, an offer in the region of £40million could be required to prise him away from Rodgers' grasp. If such an offer is received this summer, the Northern Irishman should definitely cash in.
While it's no guarantee - having casted another painful glance at Liverpool's previous transfer dealings - the buys of Coutinho and Sturridge for £20million provide hope that serious money could be well reinvested into the squad. Coutinho has looked supreme upon his arrival at Anfield from Inter Milan, and Liverpool seemed to have no competition in signing him. If Liverpool had the chance to sell Suarez and reinvest that money into the burgeoning squad, they should jump at it.
After all, Liverpool's full-strength starting XI would pose a serious threat to any in the division. The problems arise when their squad is stretched. While promising, Fabio Borini doesn't really strike fear into the heart of any defender, Jonjo Shelvey isn't really capable of intricately unlocking any side and Jamie Carragher shouldn't be near any club with European aspirations.
Rodgers has done a good job in a transitional period for Liverpool so far, but the squad still needs drastic improvements and, as a result, heavy investment.
Selling Suarez provides just that, and gives Liverpool's fringe players a chance to breathe and come into their own. With Suarez as the focal point, they're stifled.
It's certainly a conundrum for Liverpool to sink their teeth into...