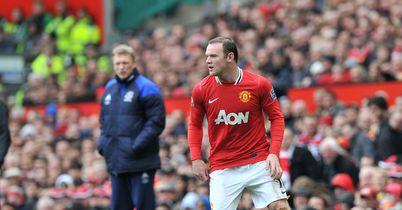 TEAMtalk's Pete Hall urges David Moyes to quickly sell Wayne Rooney after presenting a number of stats as to why Man United no longer need him.
Booed lifting the trophy on Sunday, booed when a section of fans starting singing his name on the lap of honour, and to make irrevocably certain of the majority of Manchester United fans' feeling towards the want-away England forward, Wayne Rooney was once again booed on appearance at United's victory parade; an occasion of much celebration.
The seemingly not-so-lovable Liverpudlian is fourth in the Red Devils' all-time top goalscoring list. Do you think any of the other star names in the illustrious list of United greats would be greeted with such distain?
To request to leave once from a club that has given you so much is insulting enough. But amidst a blistering title-winning success, to once again ask the Premier League champions' beloved chieftain for a transfer, because you have been subbed a few times, is unforgivable.
Despite his ability, and approaching the supposed prime of his career, his form has resulted in Rooney often being hauled off. As Sir Alex Ferguson rightly pointed out, his form that has slowly deteriorated in recent years, meaning he is far from irreplaceable. It is also why the incoming David Moyes should seriously consider accepting his former protege's plea to head for pastures new.
Back in January I wrote this piece discussing the possibility of selling Rooney, citing the main reason that we should cash in on him whilst his value is high, with Robert Lewandowski my preferred option as a replacement. (And yes, I said that before his four-goal salvo against Real Madrid!)
The reaction back then was of bewilderment that I could question that Rooney didn't have a future at the club, and was accused of not understanding his value to the side.
However, the facts don't lie. He has been left out on numerous occasions this season, starting only 22 of United's 37 league games at the time of writing, and has been substituted an incredible nine times in English top-flight clashes this season alone.
To complete only 13 games in a relatively injury-free season has prompted the England hitman to consider his future at the club, rather than vie to win his spot back in the star-studded United line-up.
The results speak for themselves. Only four points off their highest points tally in Premier League history, it is not like Rooney's absence for much of the season has been fundamental to the quest to regain what we United fans feel is rightfully ours.
The Red Devils have won nine out of the 10 Premier League matches Rooney hasn't featured in, averaging 2.4 goals per game in the process - highlighting that life with him may not be as depressing as first thought.
It is credit to the talent that he possesses that Rooney has still contributed to 22 goals in the Premier League this season (scoring 12 and assisting 10), but has still been a shadow of the player that took the goalscoring mantle from Cristiano Ronaldo with aplomb in recent years..
Stats like this, along with his record throughout his time at Old Trafford have divided opinion, with a section of the United faithful still hoping he makes yet another U-turn and decides he wants to stay at the club.
Whoever Moyes brings in this summer is likely to be an attacking option, and with the emergence of Shinji Kagawa to boot, a team that has clinched their 13th Premier League crown at a canter will be able to manage without trying to force a player who wants to leave to change his mind.
We all know of the animosity the pair will have towards each other following the 2008 court battle, which is obviously going to have some bearing on whether the boyhood Evertonian will work with the man who gave him his break in the Premier League again.
However in purely footballing terms, as Moyes begins to assess his current squad, one of the first jobs he has to do is to put this to bed, so pre-season isn't affected by incessant speculation as to where Rooney's future lies.
So I urge the incoming Moyes to make it his priority to find a new home for the surprisingly unsettled Rooney, cash in and build a squad capable of building on the foundations laid by Sir Alex Ferguson, and soon enough, fans will realise his value to the squad was all in the past!
Thanks for nine great years Wayne, but enough is enough.
You can follow Pete on Twitter here.