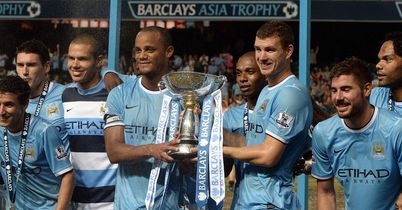 Manchester City FanZoner Tom Wilkins thinks that if the new players settle in it could be a great season for the blue half of Manchester.
How has your pre-season gone?
Pre-season's gone reasonably well with winning the Barclays Asia Cup, albeit without ever particularly setting the world alight. Fernandinho has looked sharp and promises to be the engine of the side next to Yaya Toure this season. It's good that three of our signings at least will get a decent pre-season under their belts. One negative has been the injury to Matija Nastasic on the ridiculous pitch in Hong Kong - hopefully it won't end up being as bad as it looked though.
Happy with how things have shaped up in terms of transfers - both in and out?
After the early frustration of missing out on Isco and Edinson Cavani, the transfer window has shaped up quite nicely. We seemed to go about our business quietly but efficiently - wrapping up deals for Fernandinho and Jesus Navas early on and then Stevan Jovetic and Alvaro Negredo later in the month. Carlos Tevez will be a big loss but I'm pretty confident with the four strikers we've got now, plus John Guidetti if he gets a look in. We also got a lot of dross off the wage bill too - Santa Cruz, Wayne Bridge and Kolo Toure to name but a few.
Is your current manager the right man for the job?
Let's hope so! Pellegrini carries himself with a lot of class and you only hear good things from his ex-players. Hopefully he can unite the dressing room in a way that Mancini couldn't. He's promised big things in his press conferences too so he'll need a good start.
Dare to dream - if everything clicked into place what's the best you could hope for?
With the money we've put into the squad this summer and the depth of squad at our disposal, we should really be challenging for every competition we enter. We would need our strikers to click from the off though - something which never really happened last season. It's also uncertain what the best team is at the moment, so there's certainly places up for grabs.
Back to reality - what are your realistic expectations for the new campaign?
We simply have to put up a better showing in the league than last year and challenge to the end. We also couldn't do much worse in the Champions League so getting out of the group stages would be a start. Another trophy - less season would be a real disappointment to people at every level of the club - fans, players, managers and owners.
Who will visiting scouts be keeping an eye on this season?
I think Navas will worry a full back or two this year. With genuine pace and a desire to run at defenders, he'll give us an option we badly lacked last season. However, all the new boys represent an unknown quantity and given the money spent, big things will be expected of them too. If Sergio Aguero can stay fit and get back to his best, he can be pretty much unplayable.
If you had to pick one player who'd be fit for every minute of every game who would it be?
I think the injuries to our captain Vincent Kompany certainly hindered us last year. Although we finished the season with a decent defensive record, we often lacked his leadership and composure on the pitch. David Silva and Sergio Aguero are our other genuinely word-class players who have the ability to run or change any game they play in, so it would be nice to see them stay fit.
On the flip side (without being cruel!), who is the player with most to prove?
Samir Nasri. Such a frustrating player to watch - he'll be the best player on the park in some games, and the worst in others. Has a lot to prove this year and has never really justified his price tag but a change of players and system could see him thrive. Also Edin Dzeko has started well in pre-season (penalty-aside) and will be looking to carry his form into the new campaign, with plenty of competition for places. Joe Hart also came under criticism last year, so he'll be keen to impress his new manager.
If you could sign any one player from any other side in the same division who would you plump for?
Gareth Bale. Usually plays well against us and is genuinely exciting to watch. Would love to see him marauding up the left wing at the Etihad with Navas on the other side. Sadly seems unlikely to be joining us anytime soon. There's not too many others that I'd take over what we've got though, which is a good sign.
If you only win one game all season who would take three points from?
United at home. Always a thoroughly stressful affair - great when you win and hideous when you lose. I've seen enough last minute United winners against us in my time to last me a lifetime.