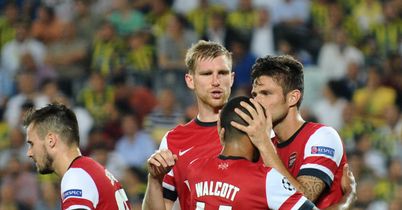 Adam Bate takes an in-depth tactical look at Arsenal's 3-0 win over Fenerbahce in their Champions League qualifier on Wednesday night.
It's fair to say Saturday's 3-1 home defeat to Aston Villa didn't go down too well at the Emirates Stadium. And while the questions continue over Arsene Wenger's transfer policy, a difficult week for the Gunners boss got an awful lot easier following a 3-0 first-leg victory at Fenerbahce in their Champions League play-off.
Arsenal were the better side throughout but had to wait for the early stages of the first-half for Kieran Gibbs to find the breakthrough. Aaron Ramsey added a second shortly after the hour mark and an Olivier Giroud penalty capped a confident display against a disappointing Turkish side. Here we take an in-depth look at Arsenal's win...
Selection
After fears over injuries to several key players in the build-up to the game, Wenger selected a strong line-up despite the absence of Thomas Vermaelen, Nacho Monreal and Mikel Arteta.
Arsenal starting XI strong. Should - and I stress should - be enough to go through. It's the depth of the squad and bench which worries.

- John Cross (@johncrossmirror) August 21, 2013
Bacary Sagna, Tomas Rosicky and Ramsey all started despite picking up knocks against Aston Villa with Gibbs also recovering sufficiently to take his place in the team at left-back.
Santi Cazorla was described as "behind physically" earlier in the week but the Spaniard came in to replace the injured Alex Oxlade-Chamberlain.
Fenerbahce included several familiar names in their starting line-up with former Everton defender Joseph Yobo in defence and the ex-Liverpool duo of Dirk Kuyt and Raul Meireles further forward.
Where it was won and lost
Although the anticipated Fenerbahce line-up was a regulation back-four, Mehmet Topal frequently dropped back to form a three. Unfortunately, the Turkish side were unable to find their forward players and turned the ball over regularly in the early stages.
With Topal playing so deep, it had the effect of giving Arsenal the extra man in central midfield and they dominated possession before the break. Rather than following Topal and venturing into a more advanced role, Rosicky stayed deeper and enjoyed neat interchanges with Cazorla and Jack Wilshere.
There has been some debate over the wisdom of using Cazorla on the flank rather than in a more central role but here he often swapped positions with Rosicky, and the average position map shows that Arsenal created something of an overload on the left side with a series of short passes.
Perhaps they were deliberately isolating Theo Walcott as the winger played extremely high up the field on the opposite flank. Walcott can be at his most dangerous when there are wide open spaces around him and Cazorla almost threaded a pass into that gap between full-back and centre-back in the first half only to be denied by goalkeeper Volkan Demirel.
Reshuffle for Arsenal after Koscielny kicked in head/face by Webo. Jenkinson on, Sagna to centre-back. 0-0 34 mins. Noisy.

- Oliver Kay (@OliverKayTimes) August 21, 2013
"Where I think the game can be won is with Theo Walcott," said Paul Merson at half-time, before alluding to the difficulties Michal Kadlec was having dealing with the winger. "The lad doesn't have a clue where he is," added Merson. Charlie Nicholas agreed. "His pace is causing Kadlec a problem," he added. "If they pick the right pass they will be fine."
But picking that pass was proving tricky. There was plenty of support for Olivier Giroud - the Frenchman had more touches inside the area than the entire Fenerbahce team put together in the first half - but there just wasn't the subtlety to get through. It was going to take something cleverer.
Ramsey provided it early in the second half and the route to goal was a predictable one. "I said at half-time that the left-back was struggling a bit," revealed Walcott after the game. Finally, one of those aforementioned passes found him. Ramsey delayed and delayed before perfectly weighting a short forward pass into Walcott's path and his square ball found Gibbs for him to fire hime. "It's a reflection of his performance," said Alan Smith of Ramsey's role in the goal. "He's been their best player."
Ramsey has not always been a popular figure at the Emirates but this was a quality performance as he enjoyed the space he was afforded by Fenerbahce. He was heavily involved, playing more passes than anyone else on the field, and even managed to add a second goal when Demirel failed to deal with his long-range shot.
While the noise continued inside the Sukru Saracoglu Stadium, on the pitch the home team were being outclassed. And the night got worse for Kadlec when he was again caught out by Walcott, this time being exposed by a quality long pass by Cazorla that the England international controlled beautifully before drawing the foul from the full-back. Giroud converted the resulting penalty in style.
And so Fenerbahce were overcome, although how big a test this was remains to be seen. A left-back uncomfortable with the pace of Walcott and a midfield with no urge to press the likes of Rosicky, Ramsey, Wilshere and Cazorla is a dream scenario for the Gunners with time and space to thread those passes through.
"This wasn't a Tottenham or a Fulham," said Merson in reference to Arsenal's next two Premier League opponents. We must wait to see how Wenger's side deal with those challenges. But, unlike their London rivals, after this performance they are at least on course for another season in the Champions League group stages.
Wenger's view
"I think we controlled the game and we wanted a great response after the performance on Saturday. It was very important to start on the front foot. I think that was vital for us and we did it well. We had many crosses from the right side in the first half but we never managed to get on the end of them. We spoke about it at half-time but we couldn't find the back-pass or the ball on the crosses. In the end I think they got tired and we found it."
Charlie's view
"They were under pressure going into this game and I think that's par for the course for Arsenal at this stage. But I think that's 11 games to get into the Champions League and they've won them all. I think a lot of these kids - and we call them kids, they're 23 or 24 - they are vastly experienced in Europe. But it was a big night for them tonight because they were under scrutiny. The patience of Ramsey was good [before playing the pass for the first goal] and Jenkinson did well to get out of the way of Walcott. Sometimes that's what it needs."
Player ratings
Ramsey set up the first goal and then netted the second for Arsenal in a strong display. "I see him playing for Wales and he's controlling games but for Arsenal he lacks confidence," said Nicholas after the game. "Perhaps we are going to see him blossom now."
After a strong pre-season this was another good performance from Ramsey and he was the man of the match here. "I'm feeling really confident at the moment," he confirmed to Sky Sports after the game. It showed.