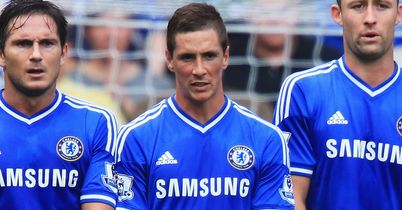 TEAMtalk guest Rich Kitto questions what is next for Fernando Torres, with the Chelsea striker's days at Stamford Bridge seemingly numbered.
Can you hear the drums Fernando? On Monday night, Jose Mourinho made the loudest noise yet that his £50million Spanish striker is not part of his plans, banging it home in style by choosing a starting XI versus Manchester United at Old Trafford without a recognised striker even on the field.
What beckons for the man once feared by opposing managers across the world, to now not even trusted by his own manager to be good enough in a role that he's played his whole life?
Fernando must remember not so long ago on another occasion in Manchester, where he was in the limelight for all the right reasons. Saturday March 14, 2009 is a date that not many Liverpool supporters will forget any time soon, and at roughly 2:30pm on the hallowed turf of Old Trafford, Torres could do no wrong. Alongside Steven Gerrard - the only other player on the pitch matching the quality of the Spaniard - the Reds' number nine tore Nemanja Vidic and his team-mates apart.
At the time, United's no nonsense Serbian centre-half was considered a major contender for player of the season, but was comprehensively outclassed by a striker at the very top of his game. I'm sure that after the final whistle Vidic was hoping he'd never have to face Torres again, so the Serbian will no doubt have allowed himself a wry smile as this time it was Torres who was left red-faced sitting on his backside.
But this latest embarrassment for Torres doesn't really come as any huge surprise, as the man once dubbed 'El Nino' has looked like a kid that lost his balloon many years ago.
Jamie Carragher summed up his former team-mate's plight: "We all know he [Mourinho] wants Rooney, that's obvious. He's basically saying that his strikers aren't good enough." The Liverpudlian, in his new role as pundit on MNF, went on to say: "You could say its probably the end at Chelsea [for Torres]."
When asked previously about the ongoing transfer saga with another of his old team-mates Luis Suarez, Carragher again made reference to Torres, exclaiming that the Spaniard made it very clear that he wanted to leave Liverpool through his lack of commitment on the field. Whilst it would take an extremely hard-nosed red fan to claim that buying Andy Carroll was good business, the majority would say it was certainly good work to sell Torres to Chelsea for the money they got.
Torres cut an extremely forlorn figure in his Chelsea debut against Liverpool, and his career at the club has simply never got going since. Even being reunited with Rafael Benitez could not help him rediscover the form that made him one of the best strikers in world football.
It's difficult to think of any other player in recent time that has fallen so quickly from such a height. Players like Ronaldinho and Kaka come to mind after they 'won everything and got bored', but the Brazilian duo's success at domestic and international level is greater than that of Torres, despite the latter owning both a World Cup and European Championships winners' medal, and therefore the lack of motivation in part can be understood.
And it was recently with the Spanish national team that the writing first became visible on the wall for El Nino, as Vicente Del Bosque reshaped his team on numerous occasions with the false nine position, choosing to play Cesc Fabregas as the floating striker and leaving Torres on the bench. Though whilst Spain has the quality (and with a large core of Barcelona players in the ranks they already have those that understand the formation) the re-jig by Mourinho was certainly uncharacteristic.
Whilst it could have put down as an element of surprise by a man that always likes to keep others guessing, the Special One has always been fairly regimented with his formations throughout the years. Drogba at Chelsea in his first spell, Eto'o at Inter, and Benzema at Real Madrid - Jose likes playing a powerful and direct frontman with interchanging floaters in behind. One national newspaper labelled Mourinho's formation against United as a disgrace and complete undermining of the talent on the bench - though this was not with reference to Torres but rather Romelu Lukaku, who many believe, after a great campaign last year with West Brom, deserves his chance to impress.
So it does seem like Torres's days are numbered at Stamford Bridge, especially with the strong reports of Eto'o coming in to once more join forces with Jose, but there has been little to no suggestion that Torres is wanted elsewhere. Last season it seemed an obvious transfer for the Spaniard to return to his old club Atletico Madrid in order for the Blues to fund a bid for the classy Colombian Radamel Falcao but this never transpired.
Chelsea will naturally look to recoup as much of the £50million spent on the player so that will likely price him out of a loan, whilst smaller teams will struggle to meet his wage demands. The top clubs in Spain don't want him, his former manager Benitez chose to bring Gonzalo Higuain to Napoli instead, whilst the top teams in France and Germany have seemingly tied up business, and it's unlikely that he'd be sold to an English rival.
When questioned on whether Torres has recouped the money that the London club spent on the striker, Mourinho said: "It is not really £50million, maybe it is twenty and a half". A generous valuation of the player who is well under the half the niño he used to be.