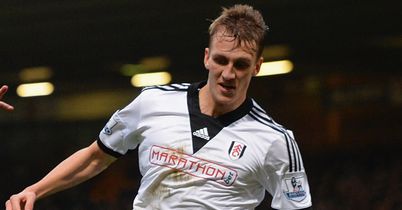 Fulham FanZoner Andy Lye looks at the club's results and performances so far in January and offers up his solutions.
Every game in recent weeks tells us something significant about our team, so this piece will be quite a lengthy analysis of those factors, with transfer window activity, or depressing lack thereof, next time.
The games around Christmas already highlighted problems with the team in terms of attitude (Adel Taarabt), a lack of will to shoot, especially against Norwich in the league, and the poor standard of our back-up defenders at Hull. That last game did at least prove to anyone who understood that we finally have a thinking manager in Rene Meulensteen, who knows what the priorities are in our situation.
The next run of games told us a lot more about the team, and gave the clearest evidence yet of the obvious deficiencies in the squad we've all been fearing and which can't continue to go unchecked.
West Ham (Premier League, home, January 1, won 2-1)
This was what we were resting the first team for at Hull, and it more or less worked, but only just. This game highlighted just what a problem the advanced age of our squad could be, and why resting them for the cup games is so important.
After going ahead early on, West Ham were poor. Had we been playing against a better side they would have drawn level or maybe even gone on to win 3-2. By the second half, at 1-1, half of our team were exhausted, practically dead on their feet. But the adrenaline generated by the need for another goal was keeping them going. Even then we were struggling to really make the extra man count after Kevin Nolan's deserved sending off.
As soon as Dimitar Berbatov tapped in that second goal (his only contribution in the last three games) the energy completely drained from, among others, Scott Parker, Fernando Amorebieta, John Arne Riise, and Steve Sidwell. For the remaining 25 minutes we were holding on, because we didn't have enough players with enough energy to do much else.
Everyone knows the team is too old, but we've been papering over the cracks for some time now. A better team would have punished us this time. Had West Ham had 11 men on the pitch, they might have done too. At some point we'll go ahead in a game but won't be physically able to keep up with the other team and we'll draw or even lose. Some players can cope with it, like Sidwell, Giorgos Karagounis and Parker. Others, like Riise, can't so well, while some, like Damian Duff, are simply not able to do their jobs anymore.
Obvious requirement: younger players.
Norwich (FA Cup, away, January 4, drew 1-1 and FA Cup, home, January 14, won 3-0)
It was absolutely the correct decision to overhaul the team and play mostly reserves and youth players in these games, especially after the evidence of the West Ham game. The romantic notion of a cup run aside, the FA Cup is of no importance to us this season. What good will it do us to win it and go down? None. At all. What good will it do in the more likely scenario that we get through a few rounds, not win it, and go down? Even less.
I'd rather have lost the away game so that everyone had just one thing to focus on, but if Rene is going to continue to play fringe and youth players in this competition, then fine. It simply must not be allowed to impact the league though.
The performances themselves were OK, but although Darren Bent finally got another couple of goals to his name, the glaring misses he once again had in both games are far more concerning than the goals themselves are comforting.
People say he should be given more time and opportunities, but this is not a young player, or a foreign player new to the league we're talking about. This is a 29-year-old experienced Premier League and international striker who shouldn't need time to adjust, and has had more than enough starts and substitute appearances to prove his worth. Time is no longer a luxury we have. He should be well and truly dropped, or better still sent back to Aston Villa. Although presumably they'd have to agree to take him, and who'd do that based on his present form?
The best thing to come out of these both games was Dan Burn convincing Rene he deserved a chance in the league as well. Fans have been calling for it for months now, and I think everyone will be pleased with how good Brede Hangeland and Burn look playing together.
Obvious requirement: at least one reliable striker.
Sunderland (Premier League, home, January 11, lost 1-4)
In case everyone getting outraged over the Hull result wasn't aware, this one was the disaster. Winning this was as vital as winning the West Ham one and somehow that importance did nothing to spur the players on. The performance was dreadful from start to finish and above anything else really highlighted how little Berbatov is prepared to do for the cause.
He did nothing except tap in a goal other players did all the work for against West Ham, and in this game he couldn't even manage that, squandering an almost equivalent chance early on. We can put up with the lack of work rate if he gets the goals, but if he's not going to hit the target either, he isn't worth having in the team.
In this game we really looked like a team going down. It was hard to find any positives, or any evidence that the players in the side were even capable of keeping us up. Calling it a "blip" is all very well, but in desperate situations, "blips" against teams like Sunderland, at home, are unacceptable.
A result like this against this kind of opposition cannot happen again, and the key reasons for it happening this time must be dealt with swiftly. Rene has proven he's not bound by the same blind spots as Martin Jol was, but he does still favour Berbatov despite a string of sub-standard performances. He owes Berba nothing, so if selling him is the solution, then get on with it, lest we find ourselves in the Dembele/Dempsey situation all over again with no time to sign a replacement.
Obvious requirement: sell Berbatov before his contract expires and he goes on a free anyway, and do it sooner rather than later.
Arsenal (Premier League, away, January 18, lost 2-0)
There is of course no shame at all in losing at Arsenal, especially this season. We probably should have given ourselves a better chance of holding on to the draw though.
Being pleased with going in at half-time level at 0-0 is all well and good, but with the excellent possession we had in the first half, the chances we either created or were there begging to be created, should have led to at least one goal. Our final ball, or a finish, was always lacking, from everyone, including the only solution we've tried so far in Clint Dempsey, who was anonymous throughout and is clearly short of full sharpness.
Berbatov spent plenty of time getting frustrated with other players, but he was just as guilty of mistakes and losing the ball, spending yet another 90 minutes basically not contributing. The one really good thing he did was to play the perfect ball for an advancing Alex Kacaniklic, who had run most of the length of the pitch, only to see Alex take such a heavy touch that he handed the ball to the 'keeper when he should have scored.
If we'd managed to go in ahead, we might have got a draw out of it, because Arsenal were always going to find the extra gear they needed in the second half, and we were always going to struggle to deal with it. Still, the performance was admirable, Dan Burn proved his worth in a very difficult league game and should now be the permanent first choice partner for Hangeland, and our lack of finishing was highlighted again. It can't be ignored any longer.
Obvious requirements: players who can play final balls and finish in attacking midfield or up front, or both, and make sure Dan Burn is tied down to a long contract before "bigger" clubs start sniffing around like they're already doing with Muamer Tankovic.
By Andy Lye, FanZone's Fulham blogger. Follow him on Twitter at @jukeboxmetal - and don't forget to follow @FanZone too!