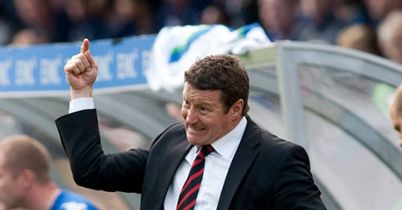 Sheffield United boss Danny Wilson was left "furious" at the penalty decision that led to Shaun Williams' winner for MK Dons.
Williams coolly stroked home his spot-kick after Blades substitute Darryl Westlake was harshly adjudged to have fouled Angelo Balanta, ending the Sheffield club's unbeaten start to the League One season.
"He was going out of the box and the boy falls down - in fact, it could have been a booking in regards to the winger," said Wilson. "But we have to live by it. You're not going to get much solace from me this evening because I'm absolutely furious.
"This is what really frustrates us, because those lads in there didn't deserve that decision at the end. They've worked their tail off - they've been well-organised, disciplined, effective in lots of key areas to negate a lot of the play that MK Dons have and we've caused a few problems ourselves.
"To come away with nothing to show for that, down to one individual, I find it really frustrating on the players' part. What you do inside 90 minutes hopefully determines whether you end up with the points or not and we deserved at least a draw - coming away with nothing is very hard to swallow.
"The players can hold their heads up high because they've done absolutely nothing wrong. It was an absolute stonewall bad decision."