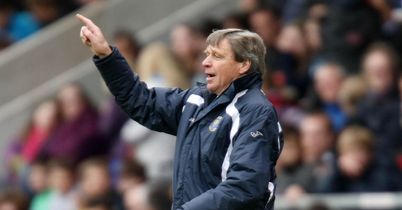 Graham Turner is convinced Shrewsbury are close to turning around their dreadful slump in form.
Town have fallen to second-bottom in League One on the back of four defeats and a draw from their last five matches, with only one win coming in the club's previous 10 league games.
But Shrews are not getting blown away by their opponents and, after Saturday's last-gasp 2-1 defeat at Leyton Orient, Turner feels his side are capable of climbing out of the "embarrassing" position they find themselves in.
"I think every match (we go into) we're going to turn it around," he said. "There were one or two more promising signs (against Orient). I think one or two of the games recently we've forgotten to pass the ball. Early season we really got some good movement, passing and even when we lost we had long periods of good play.
"And I think because of the circumstances we find ourselves in, one or two players became a little bit anxious and we've forgotten to get on the end of the ball and pass it. There were signs a little bit that that was starting to come back."
Turner added: "We've got to work our way through it, nobody will give us anything. The only way forward to is to work that bit harder and hope something turns for us."