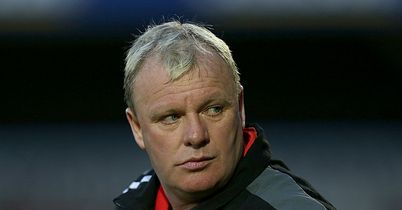 Rotherham boss Steve Evans said he is being forced to field below-par players after his side's 3-2 loss at home to Wycombe.
Wycombe defender Dave Winfield cancelled out Rotherham's opener from Daniel Nardiello after just 18 seconds and although Mark Bradley's long-range strike put Evans' side back in front, two goals from Matt McClure in the 50th and 55th minutes secured the visitors victory.
Evans, without eight players through injury, saw his team reduced to 10 men by an "x-rated tackle" by Wycombe defender Danny Foster on full-back Josh Morris, who was forced out of the game after the Millers boss had already made his three substitutions.
"Some of the players who were playing are not good enough to play for Rotherham, but we're having to play them," Evans said. "We're up and down like a yo-yo at the moment, we know that, but we need our best players.
"We have got none of our best players available and there is no hope of anyone coming back before the weekend."
On Foster's over-the-top challenge, Evans added: "The referee missed an x-rated horror challenge. The challenge on Josh was an absolute x-rated over the top. I don't think anybody on the Wycombe side thought there was anything other than a red card coming."