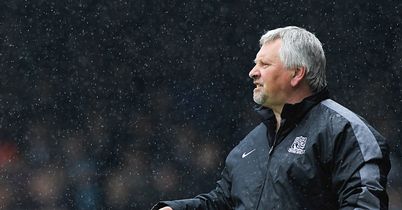 Southend boss Paul Sturrock challenged his team to replicate their goalscoring antics following the 4-0 win at AFC Wimbledon.
Fresh from notching twice in a 4-1 win over Torquay on Saturday, Gavin Tomlin's double helped the Shrimpers to another comfortable 4-1 victory.
Ryan Cresswell and Barry Corr were the other goalscorers as Southend, inspired by the performance of Kevan Hurst, made it six games unbeaten and took their tally to 10 away goals in their last three matches.
"It's important that we turn around our home form," said Sturrock. "It's been very disappointing and we're only just starting to get ourselves together because we've got a settled side.
"This was great for our goal difference. Last year we had a bit of a lead but slipped up, but this year we're doing nicely and getting better. I think we're starting to see what Kevan (Hurst) can do. I'm very pleased for him as his set-pieces were right on the money.
"But everybody is happy in the changing room after this win and I'm pleased with all the players as they have showed fantastic spirit in recent weeks. We'll rest the troops now and get them ready for Saturday, but Rochdale at home will be a tough game. We just need to turn that home form around."