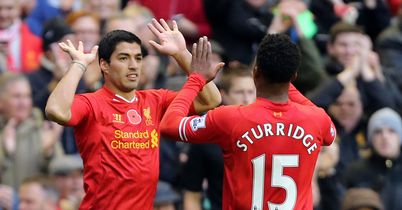 Liverpool FanZoner Richard Garnett gives his take on the Reds' return to form and the current squad depth at Anfield.
If a swift response was required to dilute the disappointment of a humbling reverse at Arsenal, then it was emphatically produced at Anfield last Saturday afternoon.
Liverpool started comfortably enough, but once they took the lead against Fulham, the hapless Londoners were flicked aside with ruthless efficiency.
The catalyst of this mid-afternoon execution was the captain Steven Gerrard, whose abject display at the Emirates was banished from the memory with a vintage performance.
Having a hand in all four goals, the Anfield legend continues to make retired football managers eat their words as he passed and probed the visitors into an early submission.
He is helped of course, by a front pair whose movement is as good as any witnessed at Anfield in many a year.
Liverpool have been guilty in the past of trying to pass the ball to death, never finding the killer instinct to turn possession into goals. No such problem this season.
Perhaps some of the forwards of recent Anfield past have lacked the game intelligence to engineer the boundless opportunities that Luis Suarez and Daniel Sturridge create on a weekly basis?
A start for Phillipe Coutinho brought further migraines to Fulham's woozy defence. His trickery, control and speed were a joy to watch and although he was not directly involved in any of the goals, the Brazilian proved excellent value on his return to the starting eleven.
Also back in the side was vice-captain Daniel Agger, who has had to sit out a run of matches whilst Rodgers persisted with three centre-backs.
The Dane didn't put a foot wrong but in truth, he could hardly have had an easier afternoon such was the tepidness of the visitor's attack.
A sterner test awaits Agger in Liverpool's next Premier League fixture at Goodison Park.
With Coutinho welcomed back into the side with open arms, Rodgers is likely to stick with the conventional flat back four that easily dispensed of Fulham.
The adjustment is harsh on Mamadou Sakho and in particular Kolo Toure, who have both performed well in the Reds' rear guard over recent weeks.
But Rodgers has shown that he is not afraid to disappoint players in his pursuit of victory.
Indeed, Agger himself will have been frustrated by the period he has spent out of the side whilst Liverpool continued their strong start to the season.
The difference now is that with such a rich palate of centre-backs to chose from, the players know that a couple of bad brush strokes will see them back on the bench.
Rodgers has been criticised in some quarters for acquiring two centre-backs when he already had three established ones in his squad.
But with a squad depth that lags behind clubs likes Manchester City and Chelsea, he should not be hung out to dry for strengthening a position where Liverpool has struggled over the last few campaigns.
The challenge for Rodgers is to reciprocate that level of depth in other areas of the field.
Glen Johnson has been one of the most consistent performers during the Rodgers rein but when he was injured, Liverpool's right-hand side assault was all but halted in his absence.
The Liverpool Echo's James Pearce also highlighted an issue regarding Johnson last week, who has only 18 months left on his current contract.
Johnson is one of the top earners at Anfield, but will be 31 when his current contract expires. Liverpool's owners FSG have no interest in offering players over 30 big money contracts so will have a very real decision to make over Johnson's future.
With that in mind, Rodgers must surely be now searching for a genuine understudy for Johnson who can not only come in and do a good job in his absence but even replace the England international should he leave the club at the end of the season.
With the international break providing another pause in Premier League proceedings, Kopites will be hopeful that Luis Suarez' jet-setting around the globe for Uruguay's World Cup play-off with Jordan does not take its toll on him ahead of the Merseyside Derby.
Suarez's commitment to the club may have been in serious doubt over the summer, but since the transfer window slammed shut he has been an example of that very same quality from the moment he returned to the field.