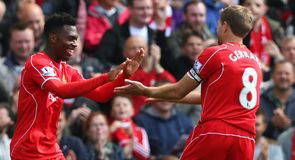 From the Editor:
Welcome to TEAMtalk's Liverpool Your Say forum.
Remember how last season started? A scrappy, unconvincing win at home by one goal, with Simon Mignolet rescuing the points late on. Suddenly, everything seems very familiar...
As always, there are plenty of people coming out of the win over Southampton spouting negatives, proclaiming that a top four finish is unlikely and the team is weaker.
Frankly, Liverpool looked very good on Sunday, in my opinion. What I believe happened is that Southampton were underestimated. The nucleus of their team is gone, after all, but they played some very good football. Then again, so did Liverpool. Sterling and Henderson look to have started this season just as strong as they ended the last one, while Sturridge's quite incredible goalscoring record continues.
In light of recent comments made by Jamie Carragher regarding Liverpool, quite a few people took umbrage. I can see both sides of the argument.
Are Liverpool, as a team, weaker due to the loss of Luis Suarez. In a nutshell, no. We'll score less goals, granted, but that was never the issue with Brendan Rodgers' men. Take even 30 goals out of last season and we'd still finish second.
No, defence was where reinforcements were needed. The introduction of Dejan Lovren has remedied this and we already look stronger defensively than we did last season. There were moments against Southampton where we struggled, but Lovren and Manquillo made fine debuts.
Add the likes of a rejuvenated Sakho and promising left-back Moreno, and the defence is shored up. As long as Sturridge, Sterling and co. continue in the same vein, a top four finish should be the minimum expected. Have Chelsea, Manchester City or Arsenal shown anything we should fear so far? I don't think so.
Aim high!
Steady.
Check out the latest Liverpool FanZone blogs here and all of the latest news stories here.
We will strive to publish your comments as often as possible between 8am and 11pm, but you must adhere to our code of conduct otherwise your messages will be rejected.
Code of Conduct:
Before submitting your message, make sure it is...
Clear, in English and in lower case.
Clean, with no swearing, racism or strong political views.
Free of any sort of abuse, particularly towards fellow posters. We will not tolerate bullying - please remember not to over-react if someone has a different view to you.
User names should not include words or language likely to offend. Any user breaking this house rule will be asked to change their user name or could be barred from the website.
If you are having a problem logging in, or if you are asked to contact the Service Desk, e-mail our technical team at SSDMservicedesk@bskyb.com.
If you wish to complain about another user or a particular post, then e-mail our editorial team at theeditor@teamtalk.com.
DISCLAIMER
We reserve the right to terminate your access to this website and the services at any time and without notice, for any reason whatsoever. We also reserve the right to bar anyone from using this website and the services.