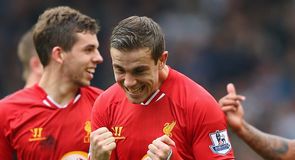 From the Editor:
Welcome to TEAMtalk's Liverpool Your Say forum.
Six games, six wins and the Premier League title will find its way to Anfield. It really is that simple now. One of the most overused phrases in football since this Sunday is "it's in Liverpool's hands". It is, after all, but it's still a monumental task.
As discussed on TT's latest podcast - which you can listen to above - there seems to be a change in the atmosphere around the club. I'd still put City as favourites, but you sense that the belief is starting to show in the fans. On the pitch, that same belief has been with the players all season, and they've just been brilliant.
In fact, I've been asked a few times recently who Liverpool's best and worst performers this season have been. There's a glut of players who can stake their claim for that first option; Gerrard, Sturridge, Henderson, Sterling and, of course, Suarez, to name but a few. For the 'worst' performer though, it's incredibly difficult. Of the players who have featured regularly enough for us this season, every single one has put in excellent performances. At a push I'd probably say Toure or Cissokho, but it's an interesting debate.
Anyway, it's just a measly eight wins on the bounce in the league at the minute then, and you can't deny that we're not only the form team by far in the title race, but in the league overall. As Rodgers says though, taking it one step at a time is the logical way to go about things. Next up then is West Ham, who Sam Allardyce insists have almost secured their Premier League safety. What better team for us to face than one with little to fight for? Complacency is a danger, but the "we'll score one more goal than you" theory is paying dividends at the minute.
The numbers are certainly looking good. Aside from the goal records we seem to be breaking every week, we've opened up a nine-point gap on 5th-placed Spurs, while Arsenal are now three points off and could well be in disarray again.
Looking at the fixture list, only the Chelsea and Manchester City games should leave us worrying about the outcome. Not to get ahead of ourselves, but with the players in this form, Spurs and Newcastle at home and West Ham and Norwich away should be dispatched if we have realistic Champions League ambitions.
As for the Chelsea and Man City games, it's all or nothing. We have nothing to lose, considering our aim at the start of the season was to maintain a top four challenge. Those two sides go into this game with the pressure on them, but Rodgers and co should approach this game as they've approached every other game this calendar year.
The "we'll score more than you" philosophy mightn't be so easy on the emotions, but it's clearly working. The defence continues to be a huge problem, but we're scoring so freely at the minute it's unnoticeable. Against Chelsea and City, the likes of Skrtel will need to step their games up, and I'm sure they'll know it.
For now, let's just enjoy this position. I know I am!
Steady.
Check out the latest Liverpool FanZone blogs here and all of the latest news stories here.
We will strive to publish your comments as often as possible between 8am and 11pm, but you must adhere to our code of conduct otherwise your messages will be rejected.
Code of Conduct:
Before submitting your message, make sure it is...
Clear, in English and in lower case.
Clean, with no swearing, racism or strong political views.
Free of any sort of abuse, particularly towards fellow posters. We will not tolerate bullying - please remember not to over-react if someone has a different view to you.
User names should not include words or language likely to offend. Any user breaking this house rule will be asked to change their user name or could be barred from the website.
If you are having a problem logging in, or if you are asked to contact the Service Desk, e-mail our technical team at SSDMservicedesk@bskyb.com.
If you wish to complain about another user or a particular post, then e-mail our editorial team at theeditor@teamtalk.com.
DISCLAIMER
We reserve the right to terminate your access to this website and the services at any time and without notice, for any reason whatsoever. We also reserve the right to bar anyone from using this website and the services.