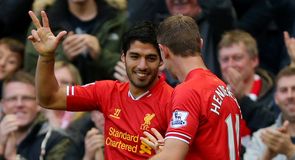 From the Editor:
Welcome to TEAMtalk's Liverpool Your Say forum.
Remember when certain fans were calling for Brendan Rodgers to be sacked at times last season? I'd even seen a couple of calls earlier this season, but those fans must certainly be embarrassed now.
Not to jump the gun, but if we don't finish in the top four now, this season is a complete failure. Looking beyond that, I'm quite liking the tag of 'dark horses' in the title race.
Do I think we can win the league? Definitely. Do I think we will? I think we'll fall just short. Our starting XI is enough to rival anyone in this league, but our squad could well be our downfall.
However, when we still have Chelsea and Manchester City to come to Anfield, anything is possible. Hopefully the defence will be sorted out and settled by then, with Skrtel and Agger both impressing against Southampton, while it was great to see Allen returning to form and Sterling being given a much-needed rest.
As I said on last week's podcast - you can listen above - Rodgers deserves huge appraisal for his work so far. We're the highest scoring side in the league, with the third youngest squad. For a team in transition, we're in an absolutely fantastic position for progression, so let's enjoy it while we can!
Steady.
Check out the latest Liverpool FanZone blogs here and all of the latest news stories here.
We will strive to publish your comments as often as possible between 8am and 11pm, but you must adhere to our code of conduct otherwise your messages will be rejected.
Code of Conduct:
Before submitting your message, make sure it is...
Clear, in English and in lower case.
Clean, with no swearing, racism or strong political views.
Free of any sort of abuse, particularly towards fellow posters. We will not tolerate bullying - please remember not to over-react if someone has a different view to you.
User names should not include words or language likely to offend. Any user breaking this house rule will be asked to change their user name or could be barred from the website.
If you are having a problem logging in, or if you are asked to contact the Service Desk, e-mail our technical team at SSDMservicedesk@bskyb.com.
If you wish to complain about another user or a particular post, then e-mail our editorial team at theeditor@teamtalk.com.
DISCLAIMER
We reserve the right to terminate your access to this website and the services at any time and without notice, for any reason whatsoever. We also reserve the right to bar anyone from using this website and the services.