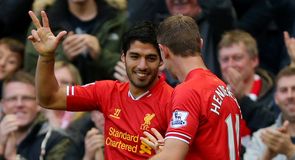 From the Editor:
Welcome to TEAMtalk's Liverpool Your Say forum.
Be honest, at this juncture would you really have turned down the position we're currently in?
With respect, any defeat to a team such as Hull isn't good enough for a side with European ambitions, but this season has already shown that anyone can beat anyone on their day in this league. What's important now is to learn from it and progress, not dwell on it.
Liverpool are very much a side in transition. Brendan Rodgers is learning on the job, and those calling his job into question surely can't understand the task he faced when taking over?
Title talk isn't premature, it's just way off. Our starting XI may be able to compete with the best in the business, but, looking at Chelsea and Man City's squad especially, we're just not there yet. That will take time, but it will also take patience.
This season is perhaps our best chance to take a place in the top four again, and as long as we come out of this difficult month still within touching distance, I'd back us to give it a real go.
Check out the latest Liverpool FanZone blogs here and all of the latest news stories here.
We will strive to publish your comments as often as possible between 8am and 11pm, but you must adhere to our code of conduct otherwise your messages will be rejected.
Code of Conduct:
Before submitting your message, make sure it is...
Clear, in English and in lower case.
Clean, with no swearing, racism or strong political views.
Free of any sort of abuse, particularly towards fellow posters. We will not tolerate bullying - please remember not to over-react if someone has a different view to you.
User names should not include words or language likely to offend. Any user breaking this house rule will be asked to change their user name or could be barred from the website.
If you are having a problem logging in, or if you are asked to contact the Service Desk, e-mail our technical team at SSDMservicedesk@bskyb.com.
If you wish to complain about another user or a particular post, then e-mail our editorial team at theeditor@teamtalk.com.
DISCLAIMER
We reserve the right to terminate your access to this website and the services at any time and without notice, for any reason whatsoever. We also reserve the right to bar anyone from using this website and the services.