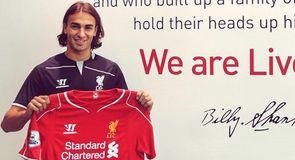 From the Editor:
Welcome to TEAMtalk's Liverpool Your Say forum.
It's been a while since Liverpool have been in this position during a transfer window. Champions League football can be offered, one of the best young managers on the European scene is also an attraction, and some of the most scintillating football last season will no doubt tempt the highest calibre of players.
Brendan Rodgers undoubtedly did a fine job in the market beforehand, buying young, hungry players for relatively cheap prices. Daniel Sturridge and Philippe Coutinho are obvious standouts in this respect, but the World Cup performances of Mamadou Sakho have also been extremely encouraging.
It's in the defence where most people have issues with Liverpool's dealings so far. Rickie Lambert and Adam Lallana have come through the door from Southampton, while Emre Can represents a necessary signing in defensive midfield. He can fill in in the defensive positions, but it remains obvious that reinforcements at the back are desperately needed.
That's not to say the club aren't trying. By sticking to their guns on the price for Sevilla left-back Alberto Moreno, the club are sending out a message that they won't be held to ransom on prices. Hopefully the same will count for the bid for a third Southampton player, Dejan Lovren. Although talented, Lovren simply doesn't warrant a £20m price tag.
Hopefully Rodgers and the scouting system will look farther afield for possibly cheaper options on the continent. As long as the quality in the player remains, of course.
Perhaps some signings rely on the player in question wanting to play in a team with Luis Suarez. It would be understandable, given Suarez's immeasurable quality. He looks almost certain to leave this summer, and personally I think it's best for the club. None of the expense this summer relies on any possible money from the Suarez sale, so we don't have to recoup already spent funds. What it will allow us to do is build a better, more balanced squad overall from the money we do get from Suarez.
I think consolidation, rather than expecting another title push, should be the aim this season. Last season was an anomaly; everything fell for us (including, unfortunately, Mr. Gerrard), but we fell just short. No-one expected it, and, by the admission of our own manager, we're already well ahead of schedule. Consolidate our top four place, qualify for the Champions League again, and then consider pushing on. Either way, the future looks pretty bright.
Steady.
Check out the latest Liverpool FanZone blogs here and all of the latest news stories here.
We will strive to publish your comments as often as possible between 8am and 11pm, but you must adhere to our code of conduct otherwise your messages will be rejected.
Code of Conduct:
Before submitting your message, make sure it is...
Clear, in English and in lower case.
Clean, with no swearing, racism or strong political views.
Free of any sort of abuse, particularly towards fellow posters. We will not tolerate bullying - please remember not to over-react if someone has a different view to you.
User names should not include words or language likely to offend. Any user breaking this house rule will be asked to change their user name or could be barred from the website.
If you are having a problem logging in, or if you are asked to contact the Service Desk, e-mail our technical team at SSDMservicedesk@bskyb.com.
If you wish to complain about another user or a particular post, then e-mail our editorial team at theeditor@teamtalk.com.
DISCLAIMER
We reserve the right to terminate your access to this website and the services at any time and without notice, for any reason whatsoever. We also reserve the right to bar anyone from using this website and the services.