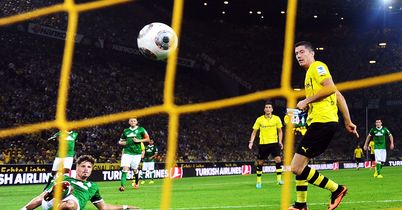 Robert Lewandowski took Borussia Dortmund clear at the top of the Bundesliga thanks to a 1-0 win over Werder Bremen in a one-sided game.
Lewandowski netted the only goal of the game in the 55th minute, but Dortmund should have won more convincingly as they created enough chances to win by a rugby score.
Bremen lost their unbeaten start to the season, but apart from a Marko Arnautovic effort before half-time and Franco Di Santo shot, they spent much of the game defending their own goal.