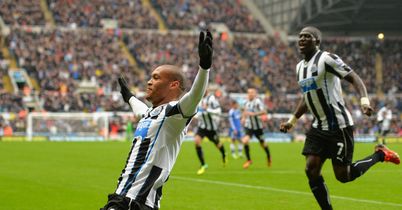 Newcastle FanZoner Sam Winter believes the next three games are crucial as United look to get their season back on track.
It's been a good five days since Cheick Tiote's screamer of injustice and it is most certainly time to move on.
I must have seen it back over fifty times over the course of Sunday night and Monday and the more I watched the more I was infuriated.
Joe Hart knows he was beaten all ends up, take one look at his immediate body language and you know that is the case. We must see goals of that nature every week (with players in offside positions) and once again a tweak to the offside rule has left everybody bemused.
Who knows what may have happened had it stayed at 1-1, a goal like that certainly would have served up an even more mouth-watering spectacle than the disallowing of it did.
Mike Jones had a horror ninety minutes and didn't do himself any favours for the integrity of referees, particularly as he also failed to send off Mapou Yanga-Mbiwa and perhaps Yohan Cabaye too in the second half. Such a performance makes you really worry about the state of officiating in the English game.
But it's gone, the game was lost and there's no changing that. What Newcastle United really should be worried about is that Manchester City added a fourth defeat in a row to the tally, with no goals scored in the last three Premier League fixtures.
Admittedly one goal was always going to be decisive in the tight encounter with Arsenal and Sunday's performance again showed Newcastle can really compete with the big boys. The defeat at the Hawthorns was most frustrating, a red card swinging it in the home side's favour but Newcastle showed a lack of goal threat that day.
I believe the next two weeks are Newcastle's crossroads this season, a pivotal three fixtures and the closing of the January transfer window. Positive results will keep Newcastle in the hunt for Europe or at least safe in the top eight, but poor results could see early promise tail off into mid-table mediocrity.
West Ham, despite a win last week and Andy Carroll's timely return to fitness, have huge vulnerability and Newcastle need to expose that at the Boleyn Ground this weekend before travelling to an equally poor Norwich City after a disappointing weekend off due to another inept FA Cup display.
These are two massive away games and then, of course, the derby at St James' Park comes after. It's time to avenge, time to win a game against Sunderland for the first time since August 2011. But Newcastle need to go into that game with at least four points accumulated on the road.
If you want to be considered a top team you have to be winning these away games. I don't care about who needs the result more, the relegation threat, the Andy Carroll factor, the long journeys south; Newcastle need to be taking these teams out ruthlessly.
West Ham's defensive woes have been well documented and their injury list remarkable. Having to take Roger Johnson from League One highlights their frailty and his throwing in at the deep end has seen him come up short. They gained him but then lost Guy Demel and James Tomkins last weekend.
This is why Newcastle must go to London and attack West Ham and I'm sure that's exactly what Alan Pardew has in mind. I'd be very surprised if Hatem Ben Arfa doesn't start, if Pardew isn't in his ear telling him that he's going to make the difference. The stage is set for the French maverick and he'd be in my XI to get at them from the first whistle.
Loic Remy has gone from prolific to hit and miss but what do you expect, it's a heavy burden to carry on your own. Everyone knows that Shola Ameobi doesn't chip in with goals and I wouldn't be surprised if Pardew opted to add Papiss Cisse to his attack - a player showing signs of rejuvenation despite transfer links away from the club.
Ah transfers, the bane of my life nowadays as a Newcastle fan. The sourceless rumours, the anti-Pardew-Ashley-JFK-Shola-Life-Everything brigade on Twitter omitting nothing but doom and gloom at this difficult time of year. The addition of a striker is essential, and I believe the club will get one "over the line" by the deadline.
Like the French Revolution of 2013, getting a striker in now not only helps Remy and co for the rest of the season but also gives that player a chance to settle before firing on all cylinders next season (permanent deal permitting). Over to you Joe Kinnear.
In the meantime it's a crucial two weeks on the pitch; three huge fixtures before a visit to momentum-gathering Chelsea. Points on the board are essential and the manager must get his tactics spot on, taking the game to these vulnerable sides while being on guard and prepared for a certain former number nine.
Newcastle showed at Crystal Palace that they can do the job against the struggling sides away from Tyneside, and it's time to do it again and get the season well and truly back on track.
Follow Sam on Twitter at @SamWinter89 - and don't forget to follow @FanZone too!