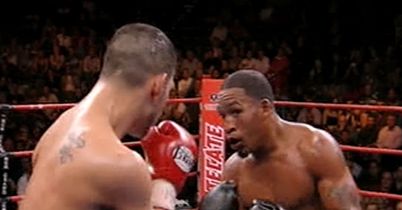 James Kirkland scored another knockout win - although somehow Brian Vera last eight rounds
KO king made to wait eight before taking Vera scalp
James Kirkland hammered out a heavy-handed warning to the light-middleweight division by blasting Brian Vera to defeat.
The unbeaten Texan southpaw stretched his record to 24-0 with a powerful, if not crude, performance and was only denied another stoppage by the former Contender contestant's amazing ability to soak up punishment.
Vera was on the receiving end from the first bell and was down twice in the second, yet somehow made it through to the eighth round of a contest that had become ugly to watch.
And it was not as if the cynics could question Kirkland's power either. Time and time again he landed sickening blows with either hand and the only surprise was that his corner, or the referee did not end the agony earlier.
To his credit, Vera fired back himself to keep it competitive but the occasional right was nothing compared to Kirkland's shots that constantly landed, with little defence to stop them.
A corkscrewing uppercut in the first suggested Kirkland was on course for another early night and by the time a crashing left put Vera down 22 seconds into the second, his 21st knockout in 24 fights seemed a mere formality.
He was up at four, but was soon taking another eight count as the first of umpteen onslaughts went unanswered.
Vera had his best round in the third, landing long rights of his own, but from then on it was target practice. Kirkland didn't even need the jab, left hooks landing before his man had even thought about getting his hands up.
A four-punch salvo sent him into even deeper water and by the end of the fourth, it was a matter of if and not when it would end.
Rounds five and six were as one-way as their predecessors although worryingly, Vera's head started to rock back whenever the straight right landed or the left hook landed flush on the chin.
Kirkland continued to hammer away for two more rounds until mercifully, the referee intervened in the eighth. A brutal body shot sent Vera tumbling on to the seat of his pants, but again he was up quickly - this time at five - when a wiser man would have at least taken more time.
Thankfully though with 75 seconds of the eighth round the mauling was brought to an end as another right scrambled Vera's senses again and for the first time had him turning away.